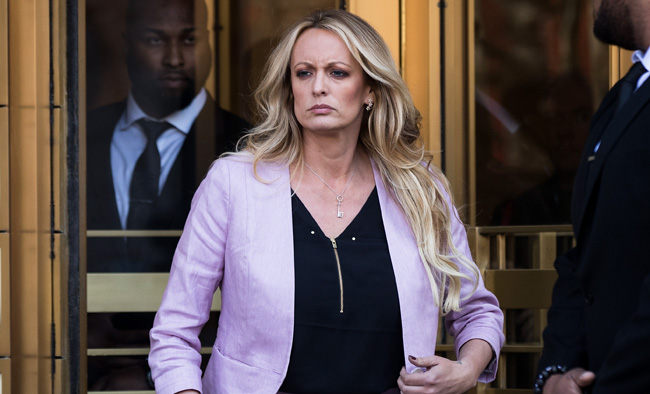 What's interesting about the Stormy Daniels scandal plaguing Donald Trump's presidency is that unlike other scandals and turmoils (Russia, losing the popular vote, administration firing rumors, James Comey, the continued existence of Hillary Clinton, etc., etc., etc.) Trump has stayed silent on Twitter and otherwise. The closest he's come to commenting is a few weeks back when, while boarding Air Force One, he was asked point blank by a reporter if he knew anything about the $130,000 payment to Daniels.
"No, No. What else?" he responded. Asked a followup on why his personal attorney Michael Cohen made the payment in the first place, Trump likewise played clueless. "You'll have to ask Michael Cohen," he said. "Michael's my attorney, and you'll have to ask Michael."
So this is why it's why it's particularly of note that during his Wednesday morning executive time, Trump finally addressed the rumors — sort of. Responding to the bombshell sketch of the man who allegedly threatened Daniels back in 2011, which she and her attorney revealed on The View yesterday, Trump retweeted an account called "Deplorably Scottish."
"A sketch years later about a nonexistent man," he declared. "A total con job, playing the Fake News Media for Fools (but they know it)!"
When you consider his continued silence over the alleged affair itself, it makes you wonder what made Trump respond to just the claims that she was threatened over it. Given Cohen's sketchy reputation, if a so-called threat was ordered, it's possible that even Trump himself may not have known about it.