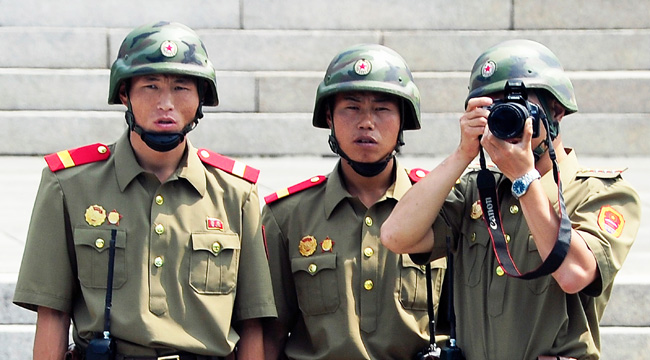 After North Korea had conducted its first missile test of 2017 on Saturday, multiple countries pushed for the United Nations Security Council to hold "urgent consultations." The U.S., Japan, and South Korea asked for the meeting, which is reportedly scheduled to occur Monday.
Trump had condemned the missile launch from the winter White House (Mar-a-Lago) on Saturday night, calling it "absolutely intolerable." However, Trump is conducting national security meetings in public, so he may need to change his way of doing business before calling other countries out. Japanese Prime Minister Shinzo Abe, who was visiting the U.S., echoed Trump's statement about working on strengthening their relationship.
North Korea's nuclear tests always make waves, and this recent one is no different. Saturday's launch comes two weeks before the U.S. and South Korea are set to begin a joint military exercise. A spokesperson for the UN secretary-general denounced the missile test, saying it's another infraction by North Korea:
"[North Korea's test] is a further troubling violation of Security Council resolutions. The DPRK leadership must return to full compliance with its international obligations and to the path of denuclearization. The Secretary-General appeals to the international community to continue to address this situation in a united manner."
South Korea also commented on the launch, noting it would punish its northern neighbor for the infraction. The UN Security Council meeting should give more insight into how the world will deal with North Korea's tests.
(Via ABC News)