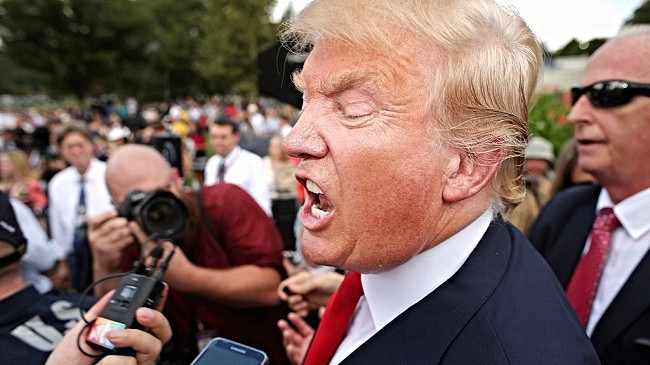 Aside from "an email cobbled together by [Commerce Secretary Wilbur Ross's] team" and billionaire investor Carl Icahn's alleged foreknowledge, President Trump's announcement that his administration would be imposing massive tariffs on steel and aluminum came as a complete surprise to his advisers. At least that's according to NBC News, which is reporting that an enraged, "unglued" Trump decided to fast-track his long-promised plans to engage in a trade war much to the surprise of just about everyone in his inner circle. The White House is unsurprisingly claiming otherwise.
Per NBC News, Trump — who early Friday tweeted that "trade wars are good" — was not in the best of moods when he improvised his tariff announcement while fielding questions from reporters on Thursday:
According to two officials, Trump's decision to launch a potential trade war was born out of anger at other simmering issues and the result of a broken internal process that has failed to deliver him consensus views that represent the best advice of his team.

On Wednesday evening, the president became "unglued," in the words of one official familiar with the president's state of mind.
According to the anonymous sources cited by the report, Hope Hicks's congressional testimony and subsequent resignation, Jeff Sessions's lackluster performance, and mounting pressure against Jared Kushner have all been weighing heavily on the president this week. As a result, Trump "was angry and gunning for a fight" and ultimately settled on his long-touted trade war after he was "spurred on by Commerce Secretary Wilbur Ross and Peter Navarro, the White House director for trade." Thursday's announcement went "against longstanding advice from his economic chair Gary Cohn and Treasury Secretary Steve Mnuchin."

To make matters worse, Trump's decision to go public with the tariffs came as a complete surprise to his economic advisers:
There were no prepared, approved remarks for the president to give at the planned meeting, there was no diplomatic strategy for how to alert foreign trade partners, there was no legislative strategy in place for informing Congress and no agreed upon communications plan beyond an email cobbled together by Ross's team at the Commerce Department late Wednesday that had not been approved by the White House.

No one at the State Department, the Treasury Department or the Defense Department had been told that a new policy was about to be announced or given an opportunity to weigh in in advance.
In response to NBC's story, the White House said everyone "was well-prepared to support the president's announcement." Another official with knowledge of the matter also reiterated that "everyone in the world has known where the president's head was on this issue since the beginning of his administration." Either way, somebody should probably get Trump a cheeseburger.
(Via NBC News)