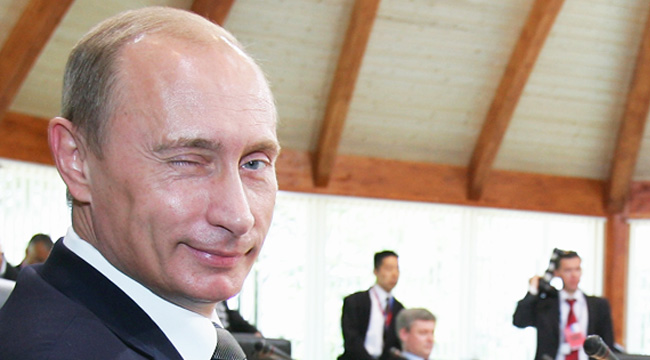 During Julian Assange's recent interview with Fox News' Sean Hannity, the Wikileaks founder insisted that Russia was not the source for their daily dumpings of Democratic National Committee emails. Assange stuck to his position despite how both the CIA and FBI concluded that Russia was behind the election hacks. A new report now aims to shut down Assange's claims, as multiple U.S. officials have told Reuters that U.S. intel agencies have found "conclusive" evidence that Russia hacked the DNC. These officials also reveal that Russia gave the goods to Wikileaks via a third party.
Further, the report backs up the timing of President Obama's reaction (after criticism that he waited too long to publicly address the matter) and his announcement of sanctions against Russia, which only occurred after U.S. intelligence officials' publicly stated that Vladimir Putin was directly involved in orchestrating the attacks. From Reuters:
U.S. intelligence agencies obtained what they considered to be conclusive evidence after the November election that Russia provided hacked material from the Democratic National Committee to WikiLeaks through a third party, three U.S. officials said on Wednesday.

They said the post-election intelligence gave the Obama administration greater certainty about the full role of the Russian government in the hacking and leaks of documents than it had on Oct. 7, when the U.S. intelligence agencies had said they were "confident" Russia orchestrated the hacking.

The additional intelligence also informed U.S. President Barack Obama's decision to retaliate on Dec. 29 by expelling 35 suspected Russian spies and sanctioning two Russian spy agencies, four intelligence officers and three companies, a decision that capped four months of debate at the White House about how to respond, the officials said.
The officials didn't go into detail about how they discovered the third-party involvement, nor do they specify who the the party might be. The Associated Press reveals that Obama received the U.S. intel report on Russia as of Thursday morning. Donald Trump is scheduled to receive the information on Friday (although he has erroneously claimed the meeting was pushed back).
Hopefully, the Trump briefing will at least happen before he retools the structure of U.S. intelligence. Meanwhile, Press Secretary Sean Spicer has continued to echo Trump's denial that Russia would hack the election.
(Via Reuters)