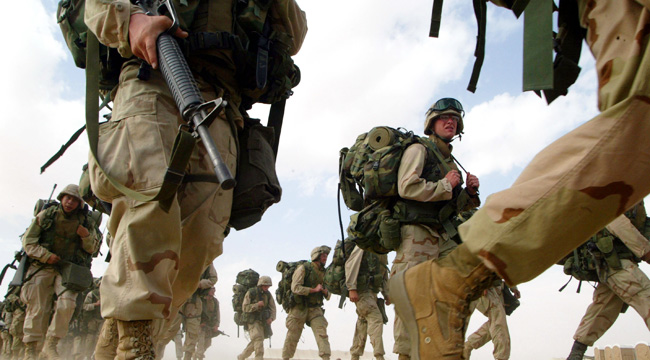 At least 200 heavily-armed U.S. Marines have poured into Syria to join the fight against ISIS. The force, which hails from the 11th Marine Expeditionary Unit, was previously stationed on ships in the Middle East. They have now deployed into northern Syria, where they're putting "boots on the ground" to fire artillery, all with the goal of pushing the Islamic State out of its Raqqa stronghold.
News of the deployment, which is said to be temporary, also reveals that 1,000 U.S. troops will touch down in Kuwait to prepare for the eventuality that they'll be needed, too. Al-Jazeera hints that any use of the "temporary" designation may be a way to circumvent the Obama administration-directed limit on U.S. troops in Syria (a maximum of 500), since temporary troops don't have to be included in that number.
The Washington Post highlights the change in tactics taking place:
The deployment marks a new escalation in the U.S. war in Syria, and puts more conventional U.S. troops in the battle. Several hundred Special Operations troops have advised local forces there for months, but the Pentagon has mostly shied away from using conventional forces in Syria. The new mission comes as the Trump administration weighs a plan to help Syrian rebels take back Raqqa, the de facto capital of the Islamic State. The plan also includes more Special Operations troops and attack helicopters.
All of this, of course, is a means for Trump to fulfill his campaign promise to protect America by defeating ISIS. However, these newly aggressive military maneuvers will raise eyebrows, especially after the uncharacteristic "boots on the ground" Yemen operation that Trump approved in the early days of his administration, which led to the first-known combat death of his presidency. Then again, the White House is now reportedly holding Trump back from making these decisions and deferring to the Pentagon instead, but some may still be apprehensive about this deployment.
(Via Washington Post & Associated Press)