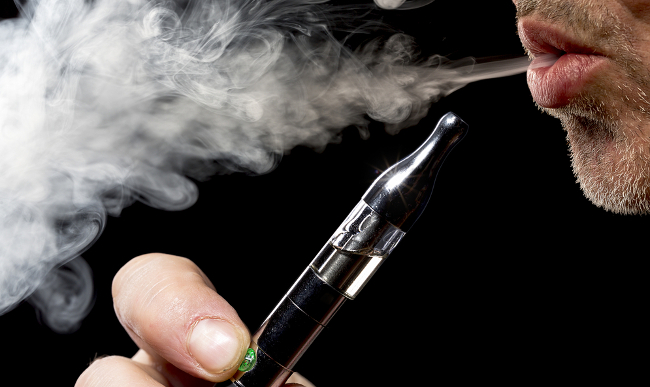 According to NPR reporter Sarah McCammon, the U.S. Navy will no longer permit the use of vaping devices by service men and women aboard any of their ships or aircraft after a string of vape pen explosions. NPR reports the e-cig ban will go into effect on May 14th and will last for an indefinite amount of time until the devices are deemed safe for such locations. Sailors and personnel on land will still be permitted to vape, "but must do so in designated smoking areas ashore while on military installations."
McCammon first tweeted the news:
In August of last year, the Navy Times published an article that reported Navy officials were in the process of weighing whether the use of e-cigs on board vessels created an unnecessary risk. Then, a memo had been sent from the Naval Safety Center up the chain of command that recommended the suspension of vaping across across the board, Navy Times reports:
"The Naval Safety Center concludes that these devices pose a significant and unacceptable risk to Navy personnel, facilities, submarines, ships, vessels and aircraft,"
The Navy's eventual ban on vaping comes as a result of numerous cases in which e-cig pens have exploded, causing injuries to the user and their surroundings. According to NPR, A Navy memorandum pointed to 15 such "mishaps" that occurred within the Navy alone from October 2015 to June 2016.
"Eight of these incidents occurred onboard Naval vessels/aircraft," the memo reads. "Nine of 15 reported incidents described the failure mechanism as explosive. … Two battery explosions occurred with the electronic cigarette in the service member's mouth resulting in facial and dental injuries."
E-cig explosions are rapidly becoming a thing. Just yesterday, a man filed a lawsuit against an e-cig manufacturer after a vaping pen he had in his pants caught fire, seriously injuring him. In Arizona, a man crashed his truck into a tree after trying to jump out of his vehicle while trying to free himself of the device's wrath. Safety of the devices is being investigated more and more as consumers increasingly switch from deadly cigarettes to the world of vaping.
No word yet on what Leonardo DiCaprio thinks about this breaking vaping news, but if he weighs in, we will be sure to update this post.
(Via NPR and Navy Times)