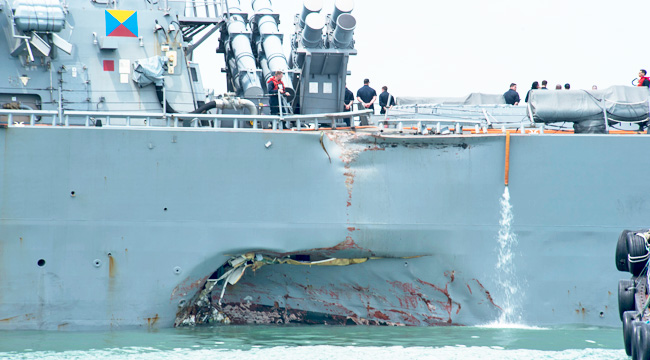 On Sunday, the USS John S. McCain became the second U.S. warship to collide with a merchant vessel (in this case, an oil tanker) in as many months. The incident near Singapore now joins a similar June collision that saw seven fallen sailors after they were trapped within flooded compartments of the USS Fitzgerald. The latest collision leaves ten sailors still missing, and the U.S. Navy has not only ordered an investigation into its Pacific Fleet, but a rare, one-day operational pause will take place across the U.S. Navy board.
As such, Navy Admiral John Richardson (who runs all operations of the military branch) has ordered a full inspection — after what is the fourth major U.S. incident this year — of all training methods and seamen. He also expressed how "devastated and heartbroken" he feels at the near-certain possibility of more fallen sailors. The Washington Post has more details:
Richardson said the trend of accidents in the Pacific "demands more forceful action," and ordered a one-day "operational pause" in Navy fleets across the world to make sure they are operating safely. More significantly, he ordered a separate investigation into how the Navy prepares its forces to operate in the Pacific.

"This will include, but not be limited to, looking at operational tempo, trends in personnel, materiel, maintenance and equipment," Richardson said. "It also will include a review of how we train and certify our surface warfare community, including tactical and navigational proficiency."
Investigations throughout the Navy will be conducted at some point over the next few weeks and will take place according to individual commander discretion. However, Richardson promises that the procedures will be both thorough and swift, and he vows to demand "frequent updates" to ensure any "corrective actions" can be taken as soon as possible.
Meanwhile, search and rescue operations are still ongoing near Singapore where the USS John S. McCain collision took place. The BBC reports that efforts are being impeded by a rough sea with rather large waves, although the injured sailors are all on the mend — four with non-life threatening injuries and one who has already been released from the hospital. Fishing vessels near the collision site are currently on the lookout for any sailors who were swept out of warship compartments during the tragic accident.
(Via CNN, BBC & Washington Post)