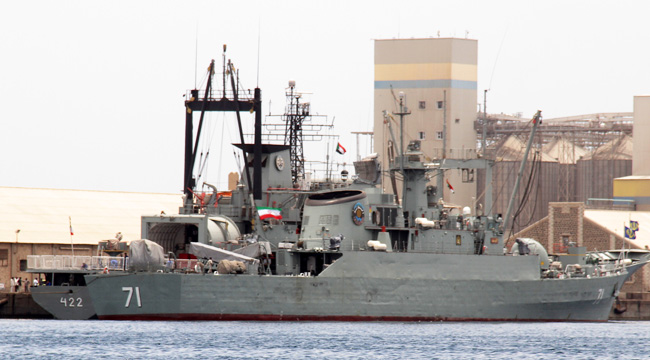 A naval vessel belonging to the Iranian Revolutionary Guard got uncomfortably close to the USS Thunderbolt Tuesday morning, prompting the Thunderbolt to fire a warning shot. The move came just days after President Trump showed last minute indecision about whether or not to uphold the Iranian nuclear deal, as tensions in the Middle East continue to increase. Meanwhile, Iran and its ally, Russia, have grown increasingly testy with the United States over sanctions.
The warning shot was fired early Tuesday morning after the Iranian vessel got within a hundred a fifty yards of the USS Thunderbolt in the Arabian Gulf. It was an eerie echo of another incident almost a year ago when three Iranian ships harassed the USS Squall (and there was also a January incident). It seems Iran might be taking a page from Russia's book, as Moscow has also engaged in some seemingly-purposeful close calls with planes, ships, and even cars. Take, for example, the June incident in which (the Washington Post reports), "a Russian military helicopter dropped from the sky to make multiple passes just feet over the hood of a vehicle being driven by the U.S. defense attache … on a stretch of road between Murmansk and Pechenga in northern Russia."
Russia and Iran have been growing increasingly close, and the U.S. has seen its relationships with both Moscow and Tehran stiffen in recent weeks over sanctions laid on both countries. Putin has vaguely threatened the United States over the diplomatic compounds from which it was expelled by President Obama for interference in the 2016 presidential election. The U.S. Senate also recently strengthened sanctions against Russia and diminished President Trump's power to roll them back or alter them.
As for Iran, Trump halted his administration's confirmation that the current sanctions deal would be re-upped in the 11th hour only to later allow the roll out to continue. His concern is that Iran's continued development of ballistic missiles follows the letter of the sanctions package, but not the spirit of the deal, which hopes to curb Iranian's military ambitions. That's especially pertinent now, given Iran's role in Syria and growing closeness with Russia amidst the U.S.'s most recent Syrian ceasefire deal with Russia.
(Via Reuters)