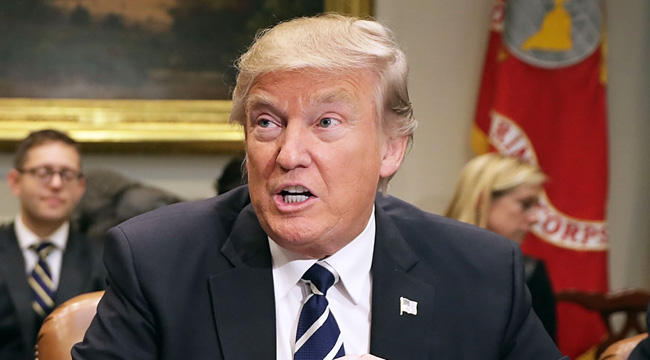 An incensed Donald Trump has resurrected his war on U.S. intelligence following reports that some of his aides communicated with Russian intelligence during his campaign. This definitely wasn't his first series of slams against intel agencies, so a timely new report from the Wall Street Journal comes as little surprise. U.S. spies are apparently withholding sensitive intelligence from Trump for a few reasons, which include his "contentious words about the intelligence community," but there's an even bigger explanation than a beef.
The Wall Street Journal spoke with some intelligence officials who are familiar with the mutual distrust between the president and the community. Of course, this backs up the strained relationship that has developed as more information continues to pour forward about the Trump administration's ties with Russia. Naturally, U.S. spies fear that any sensitive information could land in the wrong hands, so they're keeping that sh*t tight:
U.S. intelligence officials have withheld sensitive intelligence from President Donald Trump because they are concerned it could be leaked or compromised, according to current and former officials familiar with the matter. In some of these cases of withheld information, officials have decided not to show Mr. Trump the sources and methods that the intelligence agencies use to collect information, the current and former officials said. Those sources and methods could include, for instance, the means that an agency uses to spy on a foreign government.
There are even more telling statements in the report, including how spies have withheld information from other U.S. presidents, but Trump's case is a unique one:
Intelligence officials have in the past not told a president or members of Congress about the ins and outs of how they ply their trade. At times, they have decided that secrecy is essential for protecting a source, and that all a president needs to know is what that source revealed and what the intelligence community thinks is important about it.

But in these previous cases in which information was withheld, the decision wasn't motivated by a concern about a president's trustworthiness or discretion, the current and former officials said.
The conclusion there, obviously, is that the spies don't trust Trump at all, which sounds awfully familiar. A recent Haaretz report revealed that U.S. intelligence also told Israel to refrain from sharing secrets with Trump out of concern that he'd hand them over to Russia. And in turn, that information could end up in Iran. These are valid concerns, and the Wall Street Journal's sources now make no effort to hide the U.S. spies' reported perception of Trump as untrustworthy.
(Via Wall Street Journal)