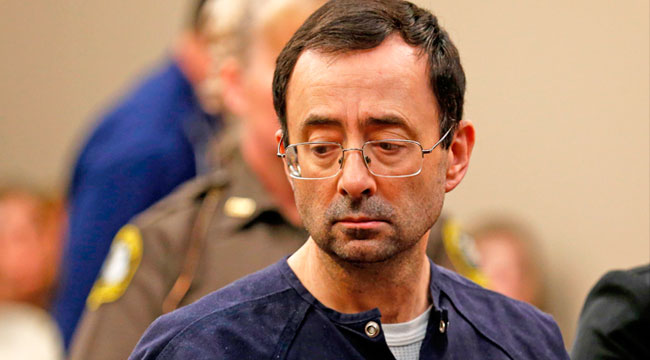 After Larry Nassar was sentenced to up to 175 years in prison for sexually abusing at least 150 female athletes, MSU (where he maintained a sports medicine practice) came under fire. Reports indicated that university reps knew of over a dozen allegations for years, and this led to further accusations of coverups extending to other sexual misconduct cases. As for how Nassar's predatory behavior was handled by the U.S. Olympic Committee, things are looking grim as well.
The Wall Street Journal reports that the USOC was not only aware of the allegations against Nassar since 2015, but they failed to intervene in Team USA's lack of action for over a year, all while he continued to "treat" patients at MSU. A top USOC official discussed the matter on at least two occasions before the scandal went public in September 2016 but didn't contact law enforcement, athletes, or MSU.
The report details a July 24, 2015 phone call between former USA Gymnastics President Steve Penny and USOC Chief Executive Scott Blackmun, and the two discussed "what appeared to amount to sexual assault by a team doctor." Blackmun reportedly told Penny (who proposed calling police) to "do what he had to do" without issuing any guidance in the months to come. The September 2015 followup (still no call to police) is even more damning:
The September email from Mr. Penny to Mr. Buendorf outlined USA Gymnastics' handling of the matter, including the work done in July 2015 by the investigator.

Mr. Penny told Mr. Buendorf in the email that three national-team gymnasts described discomfort with Dr. Nassar's treatment — a technique that Dr. Nassar said had some basis in clinical practice but which was described by at least one of the gymnasts as "rougher," "aggressive," and perhaps solely for his sexual gratification, the people familiar with the email said.
In the wake of Nassar's verdict, USOC ordered the Team USA gymnastics board to resign. This was a response not only to gymnast McKayla Maroney's lawsuit against Team USA but also Aly Raisman's declaration that the sport was "rotting from the inside." However, it seems that there may soon be some USOC resignations at hand, too, given the alleged ball dropping that occurred.
(Via Wall Street Journal)