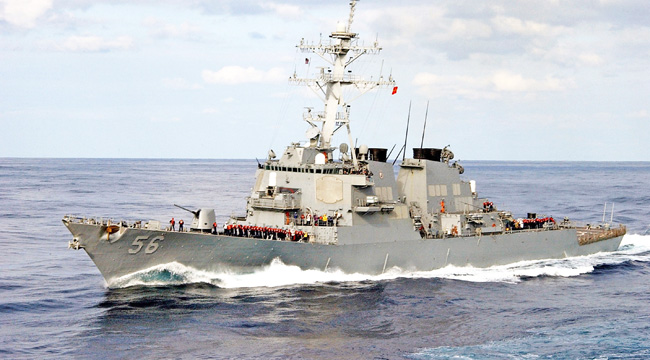 In less than two months, the USS John S. McCain has become the second U.S. warship to collide with a merchant vessel. This latest incident took place near Singapore, according to a U.S. Navy statement, at 6:24 a.m. Japan Standard Time. The warship held a crew of 330, and at this stage, CNN reports that 10 sailors are missing with at least five sustaining known injuries.
Search and rescue efforts remain underway with both the USS America and Singaporean ships responding to the scene. The U.S. Navy reports that the collision occurred during a routine port voyage, and the warship is "currently sailing under its own power and heading to port," albeit with substantial damage to her port side aft.
President Trump, via a press pool report, has responded: "That's too bad." Was he fully briefed on this situation? No one knows.
On Twitter, Sen. John McCain (son and grandson of the warship's namesakes) expressed prayers for the crew on behalf of himself and his wife.
This latest collision follows only three days after three of the USS Fitzgerald's leaders (including the commander) were relieved of their duties due to a June collision with another merchant vessel near Japan. Seven sailors died aboard that warship due to compartmental flooding sustained during that incident.