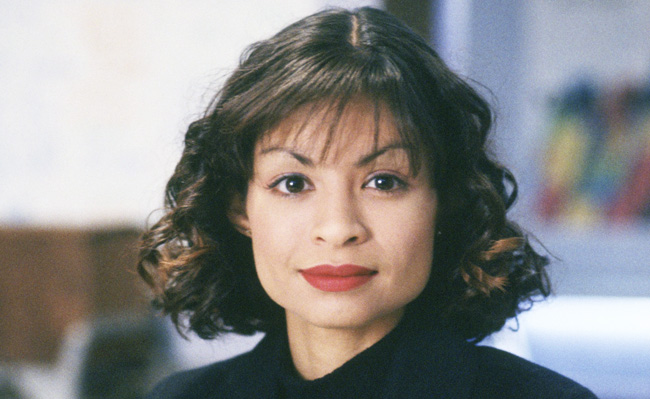 Actress Vanessa Marquez, who is best known for the role of Nurse Wendy Goldman on the first three seasons of ER from 1994 to 1997, was shot and killed by police on Thursday afternoon. The 49-year-old had been subject to a welfare check by the landlord at her South Pasadena apartment, who claimed that she had been experiencing medical issues including seizures, and appeared to be "gravely disabled."
When police showed up at the scene however, she allegedly became uncooperative and combative, pointing a handgun at officers, according to South Pasadena Police Department Lt. Joe Mendoza, who spoke to the local South Pasadenan paper:
"At the time [of the shooting] there was an LA County mental health clinician here with the officers," Mendoza said. "They began to communicate with her, she became very uncooperative and during that contact she armed herself with a handgun, she pointed it at the officers and an officer-involved shooting occurred."
Marquez was reportedly shot "at least once" in the torso, and was later proclaimed dead at the hospital. Officers later recovered the weapon, which was discovered to have been a BB gun that was made to resemble a semi-automatic handgun.
In addition to ER, Marquez had TV and film credits that included Seinfeld, Malcolm & Eddie, Melrose Place as well as the 1988 true story drama Stand And Deliver; but had not acted much since the late '90s.
In the wake of the #MeToo movement in October of 2017, Marquez lashed out at her former ER costar George Clooney after the A-list actor spoke out against Harvey Weinstein — claiming that she had been ostracized from Hollywood after complaining about workplace harassment.
"Clooney helped blacklist me when I spoke up about harassment on ER.'women who don't play the game lose career.' I did," she tweeted at the time. She also implicated costars Anthony Edwards, Noah Wyle, and Julianna Margulies, who she accused of racial abuse.
Her Twitter account has since been suspended for reasons unclear.
(Via South Pasadenan)