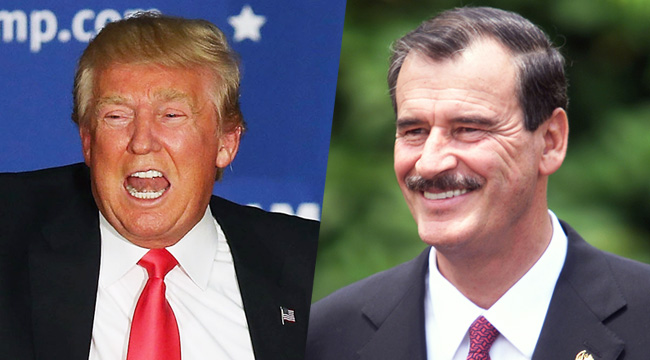 Donald Trump's rise to the status of presumptive Republican nominee isn't surprising. The timing is a bit unexpected, because Ted Cruz seemed intent upon sticking his campaign out until convention time. Instead of continuing to embarrass himself, Cruz (sort of) humbly bowed out of the race and left some souvenirs that should reveal themselves with time.
However, we don't have to wait for a Trump-related surprise because former Mexican President Vicente Fox just dropped one. One of the most prominent aspects of the Trump campaign is the silly wall he wants to build between the U.S. and Mexico. The fabled structure grows taller with each victory speech, and Fox was not impressed with this showy display or the notion that Mexico would happily pay for its construction. Fox previously unloaded on Trump and shouted, "I'm not going to pay for that f*cking wall!" Trump feigned offense over Fox's F-bomb, and the real estate mogul demanded an apology.
In response, Fox doubled down. He repeated his F-bomb with such force that a Fox Business anchor nearly fell out of her seat as he continued to rant. A few months later, Fox has changed his tune. He unexpectedly delivered an apology to Trump via Breitbart News:

"I apologize. Forgiveness is one of the greatest qualities that human beings have, is the quality of a compassionate leader. You have to be humble. You have to be compassionate. You have to love thy neighbor. Love your nation. Love the world. Yes, I'm humble enough as leadership be, [a] compassionate leader. If I offended you, I'm sorry. But what about the other way around?"
Fox went on to criticize Trump for his own habit of attacking and offending folks. He also invited Trump to Mexico, so perhaps Trump could see that his characterizations were all wrong. This is a generous gesture from Fox, but more importantly, it's also a sign that people are taking Trump seriously as a candidate. Here's a clip of Fox's apology.