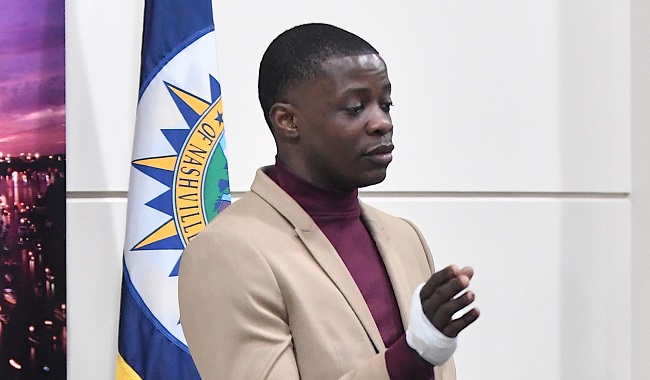 As more details come to light about the suspects behind the Toronto and Nashville, Tennessee tragedies, one of the brighter spots also (thankfully) making the rounds has been James Shaw. Police credit the 29-year-old man with preventing further bloodshed at the Waffle House in Nashville's Antioch neighborhood, where Travis Reinking killed four people and injured many others. Shaw wrestled the suspect's AR-15 rifle from him, causing the latter to flee the scene, and later started a GoFundMe page for the victims of the attack. On Tuesday, the Tennessee legislature officially recognized Shaw for his heroism.
In a joint resolution passed by the state's general assembly, Shaw was applauded for his heroic act — as well as his "penchant for honesty":
"No matter his motivations, Mr. Shaw is indeed a hero; his actions on that fateful morning are unfathomable to most, indescribable by even the chief of police, and very poignant to the citizens of Nashville, who are deeply grateful for his brave actions in the face of extreme adversity that saved many lives," the resolution said.
Despite the accolades, Shaw maintains that his motivations were more selfish than anything else. "I was just trying to live," he told the New York Times in an interview, recounting what happened when he fought back against Reinking. "I wasn't trying to get no money from him, I wasn't trying to do anything from his standpoint. I just wanted to live, and he was, like, astonished, that I wanted to live."

At a vigil held for the victims and their families, Shaw addressed the crowd while holding his four-year-old daughter, Brooklyn. "This is the first time I've seen her since the incident," he said. "I actually tried to count the hairs on her eyelashes just because I was like I almost didn't see you anymore."
Meanwhile, late Monday night, freelance reporter Yashar Ali started another GoFundMe page, albeit with the intent of helping Shaw out. "According to news reports, James has a four-year-old daughter," Ali wrote. "Perhaps this money can be used for her college fund or some other education related expense. But I'd be just as happy if James used some of this money to take his family on a nice vacation." As of this writing, the second GoFundMe has raised over $75,000 for Shaw's daughter.
(Via New York Times, CNN and The Tennessean)