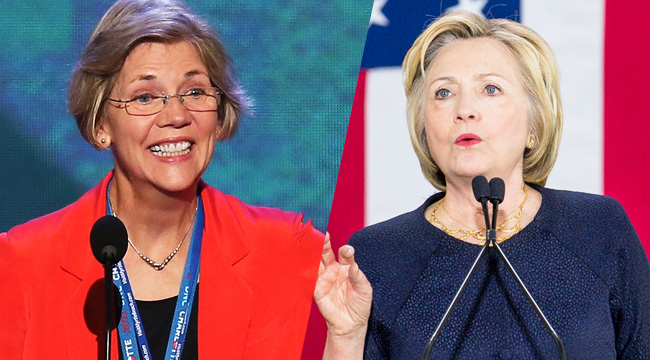 By most accounts, Elizabeth Warren is likely on the shortlist of candidates being vetted as a vice-presidential candidate for Hillary Clinton. The pair not-so-privately met about a week ago, which fueled speculation that the duo would form a two-woman ticket. The Massachusetts senator certainly auditioned for the job with repeated attacks against Donald Trump, and she's proven herself tough enough to not shy away from his continued attacks. She'll even publicly defend Clinton against him without thinking twice.
Warren's also got a whole host of fans, but she leans much more to the left than the presumptive Democratic nominee. And some of Clinton's high-dollar donors aren't happy about the possible union. There's been no shortage of news involving Clinton's Wall Street ties (Bernie Sanders loved repeatedly reminding everyone of his rival's Goldman Sachs speeches), and now Politico reports that Wall Street wants to choose Clinton's running mate. They're even threatening to pull campaign contributions to get their way:
"If Clinton picked Warren, her whole base on Wall Street would leave her," said one top Democratic donor who has helped raise millions for Clinton. "They would literally just say, 'We have no qualms with you moving left, we understand all the things you've had to do because of Bernie Sanders, but if you are going there with Warren, we just can't trust you, you've killed it.' "

The distaste for Warren in the banking industry is not surprising. No American politician in recent history has done more to harness the powerful anti-Wall Street sentiment that continues to rage in the country since the financial crisis of 2008. Warren created the Consumer Financial Protection Bureau that many bankers dislike, and she continues to push for far stronger regulations including breaking up the nation's largest financial institutions into smaller, simpler pieces.
Some donors also reportedly question Warren's loyalty and think she could be using this "VP audition" as a way to increase her power in the Senate. Then there's a telling tidbit about how "Warren would be a nightmare to try and manage," which shows exactly how big-dollar donors see politicians — as puppets. And of course, the description is sometimes accurate.
Overall, the piece shows how Wall Street resents Warren even more after she criticized Donald Trump for celebrating the housing crisis (which allowed him to scoop up property on the cheap). Yet these donors don't express support for Trump. They'd like to defeat him, but they can't stomach the thought of someone who's as critical of their practices as Warren. Anonymous parties also fear what damage Warren could work to the economy, and they feel she wouldn't be a good negotiator with a Republican-led Congress like, say, Joe Biden. Ultimately, Clinton has a delicate choice to make. If she picks Warren, many of Bernie Sanders' followers are likely to join the cause. This would unify the Democratic party, but it would do so at the expense of major campaign dollars.
(Via Politico)