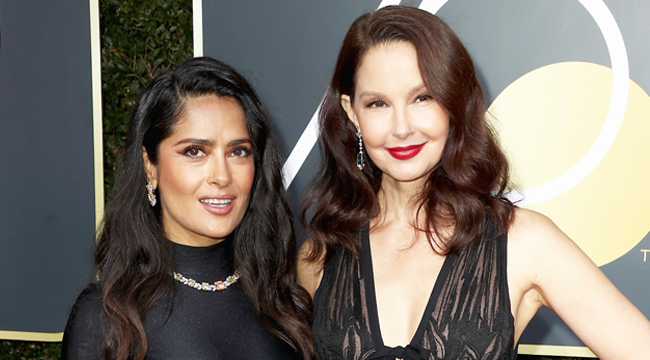 Harvey Weinstein obviously won't be at Sunday's Oscars ceremony, but Hollywood won't allow his pattern of predatory behavior to be swept under the red carpet. Aside from the golden "casting couch" statue that appeared near the Dolby theater where the Academy Awards will occur, and two actresses breaking tradition by presenting the Best Actress award, another significant moment in the awards show will occur. A trio of Weinstein's accusers will appear onstage together to present an award together.
These three actresses — Salma Hayek, Ashley Judd, and Annabella Sciorra — will undoubtedly usher in an emotional and powerful moment within the ceremony. Both Judd and Sciorra were allegedly blacklisted after becoming victims to Weinstein's sexual misconduct, and Hayek came forward to allege that he threatened to kill her during the depths of his sexual harassment. Vanity Fair reports that the ceremony's rehearsals were high with emotion:
As became clear during rehearsals, the telecast will have a surplus number of women taking the stage, including a trio who will carry a special significance for anyone who has followed the Harvey Weinstein saga: Judd, Sciorra, and Salma Hayek, who was represented by a stand-in. The three women have all publicly shared stories of Weinstein's alleged sexual misconduct.

"It's an honor to–whoa," Sciorra began to read her portion of the show script when she looked out into the theater and stopped in a moment of emotion.
The three women also appeared on an apparent hit list drawn up by Weinstein to aid his spies and private investigators for targeting purposes. While the #MeToo and #AskMoreOfHim movements cannot possibly make overnight changes, it's clear that this Oscars ceremony will carry a different tone aimed toward progress. After all, Variety didn't declare this "the year of the woman" for fun. Decades of abuse cannot easily be remedied, but tonight's ceremony could at least provide a glimpse of change.
(Via Vanity Fair)