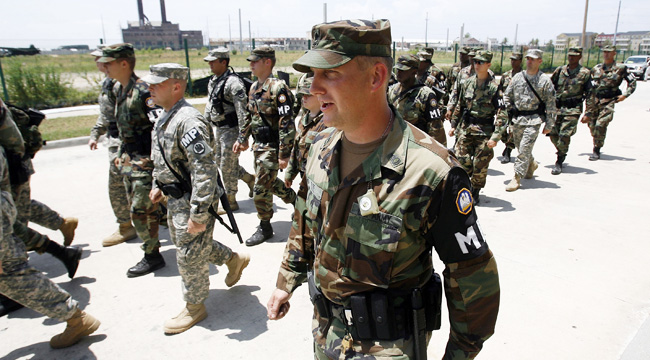 On Friday, the Associated Press reported that the White House was considering mobilizing nearly 100,000 National Guard troops to roundup undocumented immigrants. However, White House Press Secretary Sean Spicer immediately denied the story. While speaking to the press pool on Air Force One, Spicer stated, "That is 100 percent not true. It is false." He also tweeted to the same effect.
The AP story resulted in an immediate wave of attention, as such the aggressive move would send troops flowing into cities far away from the U.S.-Mexico border. Eleven states were reportedly included in the proposal, although governors would have had to approve the initiative.
On Twitter, Igor Volsky reminded the world that the Posse Comitatus Act of 1878 would likely forbid the use of U.S. troops in such a way. However, this complication could have been bypassed if authorities requested National Guard assistance in an emergency situation.
In the original report, the Associated Press stated that the White House's consideration for using National Guard troops to help with immigration roundups was originally planned as a supplement for one of Trump's executive orders. The AP also noted a request for comment (which wasn't answered) from the White House before publication.
FiveThirtyEight Editor-In-Chief Nate Silver suspects that this might all be a plot for the Donald Trump to yell, "Fake news!"
Bloomberg reports that the Department of Homeland Security would not comment on the Associated Press story.
UPDATE #1 – 1:20pm EST: A document purporting to be the draft memo on this proposal has surfaced on Document Cloud. Section D addresses calling up National Guard troops to assist in the roundup process.