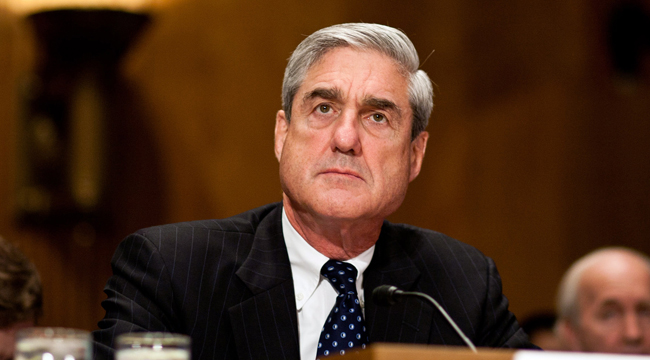 Robert Mueller is a notoriously thorough investigator, as, most recently, a California man named Richard Pinedo learned the hard way. Pinedo, however, was just a small-time software developer involved in shady practices on eBay. The latest report involving a new Mueller charge, however, is a bit more interesting, both to those following the case closely, and to conspiracy theorists.
Alex Van Der Zwaan is a lawyer with the gigantic international law firm Skadden, Arps, Slate, Meagher & Flom. Van Der Zwaan was interviewed by the FBI in the course of Mueller's exploration of Paul Manafort and his connections to Ukrainian money laundering and former Ukrainian prime minister (and alleged puppet of Vladimir Putin) Viktor Yanukovych. The firm was involved in writing up a report about whether Yanukovych's attempted prosecution of his political rival, former prime minister Yulia Tymoshenko, had any legal basis, and Mueller apparently wanted to know about Manafort's connections.
According to the federal court filing, Van Der Zwaan lied to Mueller's team about communications between himself, Manafort associate Rick Gates, an unnamed individual called "Person A" in documents, and also about why a specific email that turned up later hadn't been produced by Van Der Zwaan. Furthermore, the filing claims Van Der Zwaan recorded the calls in secret, and didn't produce those recordings. It seems likely Van Der Zwaan will need to explain himself on this topic. But it's his personal connections that have newshounds and conspiracy theorists up in arms.
Van Der Zwaan is reportedly the son-in-law of Russian businessman and Putin associate German Khan, who was heavily involved in oil and is also part of Alfa Group. Allegedly, Alfa Bank was a financial institution that inexplicably pinged servers in Trump Tower in late 2016. Some are theorizing that Van Der Zwaan either knows far more than he's telling, or he's a means to an end to snag the oligarch.
Not helping matters is that Mueller's investigation itself is incredibly buttoned up. But as the Pinedo plea proves, Mueller and his team are exceptionally thorough people, and Van Der Zwaan isn't the first person to face charges of lying to the FBI; Trump campaign worker George Pappadopoulos secretly pleaded guilty to lying to the FBI months ago. So this could simply be Van Der Zwaan made a grave tactical error and has gotten swept up in an enormous investigation. We'll have to see as it unfolds.
(via Bloomberg)