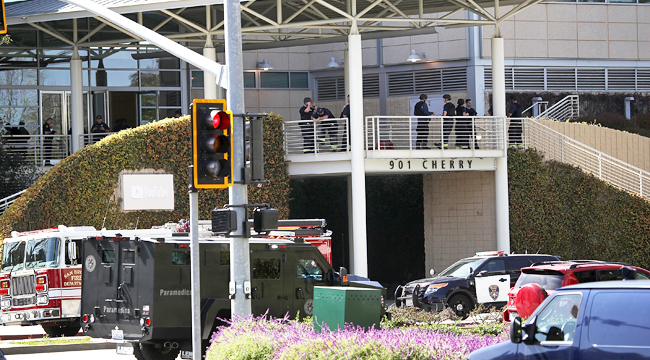 Following reports of an active shooter at YouTube headquarters on Tuesday afternoon, it was soon revealed that the female suspect died on the scene, and more updates have been flying. The Mercury News is now reporting that local law enforcement confirmed that the shooter, whose identity has not yet been revealed by authorities, killed herself with a self-inflicted gunshot wound. Further, she may have been motivated for reasons involving a domestic dispute, according to an anonymous law enforcement source.
That is to say, the female suspect reportedly entered the YouTube headquarters and shot her boyfriend, a 36-year-old male who's now listed in critical condition at Zuckerberg San Francisco General Hospital. In addition, she shot and injured two women before reportedly fatally turning the gun on herself. San Bruno Police Chief Ed Barberini informed the Mercury News that the suspect did kill herself and further described the scene:
Barberini said police were called at 12:46 p.m. to the online video giant's Cherry Avenue campus for reports of gunfire, and three officers who arrived at the scene within two minutes were met by a multitude of fleeing employees.

"It was very chaotic, as you can imagine," Barberini said. The gunfire took place in an open courtyard, he added. Employees were eating lunch when the "horrific act of violence" occurred, said Sundar Pichai, CEO of YouTube's parent company Google, in a note to employees that Google posted on Twitter.
The Daily Beast spoke to a federal law enforcement official who also confirmed that the shooter targeted her boyfriend. Meanwhile, CNN anchors have been criticized for on-air speculation that the woman may have been upset over a "love triangle," which is probably a theory that wouldn't have immediately floated on cable news if the shooter was male.
In addition, it's notable to mention that Twitter CEO Jack Dorsey, while responding to news of the shooting, has had enough of customary "thoughts and prayers" on his social media platform. Dorsey linked to the March For Our Lives movement while arguing that reactive stances to these unstoppable acts of gun violence are not enough.
(Via Mercury News, Daily Beast, Hollywood Reporter & Jack Dorsey on Twitter)