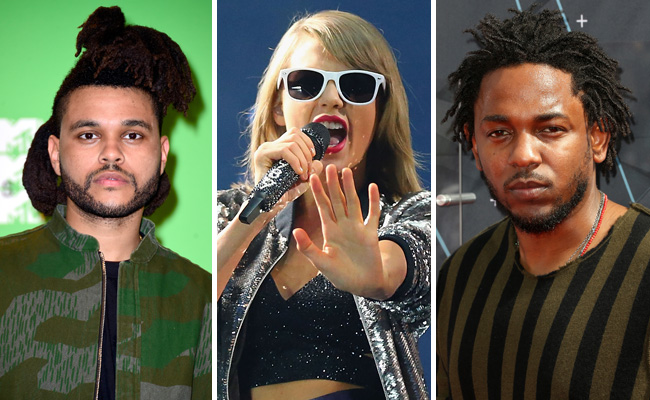 The beginning of an NBA season has endless possibilities. You could have champagne showers and rings on the horizon, or you may be staring down a 10-72 record, but right now, everyone is in the hunt. Here at Uproxx Music, we're all pretty big fans of The Association, so we figured we'd give every single team a song from this year as an anthem to predict their upcoming season. Hopefully your team has a song that's uplifting or of triumph, and not of the bitter taste of defeat. (And for an actually technical analysis of the upcoming season, check out the great season preview over at Dime Mag.)
Atlanta Hawks – Kendrick Lamar, "King Kunta"
Imagine that you have the infinite respect of your peers. Everyone wants to model their operation after you. You're infinitely talented and by all accounts, you achieve success the right way with technical skill and incredible style. Yet in the greater popular opinion, you're still mentioned as number two under your more, we'll say, flashy rivals who dwell up north. This is the Atlanta Hawks to a T. Perhaps the first actual team to successfully model themselves as Spurs East, the Hawks should be mad! They're great, but can't get passed the LeBron hype. Will they do it this year? Who knows, but on paper, they definitely should.
-Michael Depland, @mdepland
Boston Celtics – Mark Ronson featuring Mystikal and Bruno Mars, "Feel Right"
Why? Because this year's Celtics feel good, they feel fun, and they feel right. The C's ended last year strong, showing signs of promise and creating feelings of reassurance that Danny Ainge's grand plan of rebuilding the team from the ashes of the Big 3 era was actually making sense. Going into this season, no one is foolish enough to think they are going to win, let alone contend for a championship, but there is a general feeling that they'll make some noise, ruffle some feathers in the weak Eastern Conference.
-Ryan O'Connell, @rynofrommaine
Brooklyn Nets – Sleater-Kinney, "Price Tag"
"Price Tag" is about working class struggles, which the Nets' billionaire owner can't really relate to, as a man who seems to spend money for fun. However, the choruses warnings about never checking the price tag, and that when the costs come in they are gonna be high, are still apt for Brooklyn. The Nets have spent a ludicrous amount of money, even by NBA standards, and they've traded draft picks with something approaching disdain for the idea of drafting. What do they have to show for it? A team hoping for mediocrity that is just hoping to not be giving up top five picks for the next decade. A high price to pay, indeed.
-Chris Morgan, @chrisxmorgan
Charlotte Hornets – Courtney Barnett, "Pedestrian at Best"
The Hornets aren't interesting. The Hornets aren't fun. They play defense and try hard and just sort of attempt to win slugfests. Their most dynamic player offensively is Al Jefferson, which says everything that needs to be said. The loss of Michael Kidd-Gilchrist, who can't shoot, but at least is a force on defense, lowers their ceiling even further. Their ceiling is right in the title of Barnett's song. At best, the Hornets are a pedestrian team. They put Michael Jordan on a pedestal, and he's only disappointed us.
-Chris Morgan, @chrisxmorgan
Chicago Bulls – Shamir, "Call It Off"
Even though his tenure brought them consistent visits to the playoffs, the Chicago Bulls higher-ups took a long, hard look at an MRI of what used to be Derrick Rose's knees and decided to axe head coach Tom Thibodeau this offseason. Shamir's joyful kiss-off at the end of an unhappy, abusive relationship is the perfect soundtrack for a team that rid themselves of Thibodeau's punishing style and still expects to compete.
-Alex Galbraith
Cleveland Cavaliers – Drake & Future, "Big Rings"
This is probably a little too obvious, but the goal and mandate for the Cavs this year is as obvious as an ever-growing sinkhole in the middle of the city. Nothing short of a championship is enough for Cleveland, and I'm not just saying the city, but for the players, the organization and the ownership group. They are, for lack of a better phrase, All In (and yes, I realize that's the slogan the team uses anyway) on this group of guys. Between the huge luxury tax and the lack of flexibility, as well as the ever-shrinking window of LeBron James as the Destroyer of Worlds he has been for so long, the Cavs need some really big rings. Man, what a time to be alive.
-Martin Rickman, @martinrickman
Dallas Mavericks – DILLY DALLY, "Desire"
Mark Cuban has a lot of desire. He desired DeAndre Jordan, only to see himself spurned at the last moment. DILLY DALLY's "Desire" is the perfect song for such an unrequited feeling of desire. That's probably not the end of it, though, for Cuban. He also desperately desires one more ring with Dirk, and has done everything he can to try and make it happen. It's not going to happen, though. Cuban can only soul his jilted soul by listening to this song on repeat whilst staring out the window, dreaming of DeAndre.
-Chris Morgan, @chrisxmorgan
Denver Nuggets – Willie Nelson & Merle Haggard, "It's All Going to Pot"
Yes, by this point, pot jokes w/r/t Denver are well-worn, perhaps excessively so. That being said, considering the rather drab roster the Nuggets have (although Emmanuel Mudiay should be fun, and Danilo Gallinari is good when healthy), they should be one of the worst teams in the West, and that makes for a season that has already, more or less, gone to pot. It's a bummer, but you know what's a good way to wash away those negative feelings? Watching the Denver Broncos, of course. What were you thinking?
-Chris Morgan, @chrisxmorgan
Detroit Pistons – Protomartyr, "Cowards Starve"
The Detroit Pistons have been positioned as the epitome of a blue collar team for years. They have adopted the "Detroit vs. Everybody" ethos with gusto. Stan Van Gundy and his pleas to "Form a f*cking wall!" embody this team. As such, it only seemed fair to choose a Detroit area band, and Protomartyr fits the bill. Plus, the hard edge of their music fits the aura of Detroit basketball perfectly. Cowards starve, and the Detroit Pistons, if nothing else, aren't cowards. They are gonna tear that mountain down. Although, it'd be nice if Andre Drummond actually made some free throws.
-Chris Morgan, @chrisxmorgan
Golden State Warriors – Drake, "Back to Back"
The Warriors are hellbent on proving their doubters wrong. Fans, critics and opposing coaches and players alike are calling the Dubs lucky for their incredible health last year while teams crumbled around them. It seems we've forgotten just how great this team was, and there's no better soundtrack for them this year than the final nail that Drake hammered into Meek Mill's coffin. Steph Curry is some sort of basketball deity or Herculean demigod at the least, and winning two-straight Finals would only cement his extraterrestrial status amongst us mere mortals. After collecting their rings, there's only one thing in mind for Golden State, and this song hammers that home.
-Bansky, @Bansky
Houston Rockets – St. Paul & The Broken Bones, "Call Me"
Rockets GM Daryl Morey loves a good deal and has never been shy when it comes to making moves. The Rockets look to be contenders this year, so I have to imagine Morey will be working the phones, hoping to add to his roster knowing full well that the tandem of Dwight Howard and James Harden can only take the Rockets so far.
-Ryan O'Connell, @rynofrommaine
Indiana Pacers – The Weeknd, "The Hills"
Things used to be so good with this team. A few years ago, the Pacers were nearly automatically stamped to go to the Eastern Conference Finals and things were rolling. Now we're all a mess. No Hibbert, no Lance, no David West and you're playing Paul George at power forward? It seems like those sweet times are just a distant memory. Now who do we have left? George Hill, Jordan Hill, Solomon Hill. Who are we to judge? Well, we could judge a little bit.
-Michael Depland, @mdepland
Los Angeles Clippers – Bleachers, "Rollercoaster"
They have DeAndre. They don't have DeAndre. Hey they have DeAndre! Holy smokes, they beat the Spurs at the last minute! Holy crap, they then lost to the Rockets. They had a racist owner, now they have a crazy one. Blake Griffin dunked over a car! Yeah, but it was really just the hood. Welcome to Lob City. No weak stomachs allowed.
-Ryan O'Connell, @rynofrommaine
Los Angeles Lakers – Sports, "Get Bummed Out"
"Get Bummed Out" is about a tumultuous romantic relationship, which doesn't necessarily translate to sports. Although, with the way the love affair between the Lakers brass and Kobe has helped hold this team back, maybe it is apt. Also, the band is called Sports, so, you know, c'mon. A team that is used to being one of the leading lights of the NBA is going to be an afterthought once again, led by perhaps the NBA's worst coach Byron Scott. Get bummed out, indeed.
-Chris Morgan, @chrisxmorgan
Memphis Grizzlies – Titus Andronicus, "Dimed Out"
To be "dimed out" is to be turnt up to the max. On a scale of one to 10, it has been set to 10, and with gusto. The Memphis Grizzlies currently employ Tony Allen, Zach Randolph, and Matt Barnes. This team is going to be so dimed out it could explode.
-Chris Morgan, @chrisxmorgan
Miami Heat – Flo Rida featuring Sage the Gemini and Lookas, "G.D.F.R."
Flo Rida is a dedicated Miami Heat fan and should be excited for the progress his team made this offseason. Two years removed from the Big 3 era, Miami is coming off its first time missing the playoffs since 2008. This year, Miami will be a contender in the weak Eastern Conference with Wade, a healthy Bosh, a maturing Hassan Whiteside, and trade deadline acquisition Goran Dragic. If this team can stay healthy and get the most out of their bench additions, this team could end up in the Eastern Conference Finals against their old friend LeBron and the Cavs. If that's the case, we'll know it's goin' down for real.
-Spencer Linstead, @spencerlinstead
Milwaukee Bucks – Jamie xx featuring Young Thug and Popcaan, "I Know There's Gonna Be (Good Times)"
The Bucks are loaded with young talent and oozing potential. Jabari Parker and Giannis Antetokounmpo both look like they'll be special, they have an approval to build a new $500 million arena set to open in 2017, and things are officially looking up for Milwaukee. There will be some bumps in the road with such a young core and an eager fan base, so this song should be in constant rotation for the team and fans alike all year long. Good times are coming, trust me. Trust Jamie xx, Young Thug and Popcaan.
-Bansky, @Bansky
Minnesota Timberwolves – Big Grams, "Born to Shine"
From the moment the Minnesota Timberwolves won the Draft Lottery to pick No. 1, NBA fans have been salivating to see Karl-Anthony Towns and Andrews Wiggins play on the same squad. While they may not be ready to compete for a championship this year, the 20-year-old Wiggins and 19-year-old Towns are clearly future stars in the making. This year, they'll learn how to be professionals from the best mentor possible, Kevin Garnett, while playing with a young core that seems to all fit together. It's not their fault they won't compete this year, but the T-Wolves are clearly Born to Shine.
-Spencer Linstead, @spencerlinstead
New Orleans Pelicans – Taylor Swift, "Wildest Dreams"
"He's so tall, and handsome as hell. He's so bad, but he does it so well." If that doesn't describe Anthony Davis and his trademark unibrow, I don't know what does. The New Orleans Pelicans have pressure on them this year with a new coach and a ton more visibility with the rising star center. But, with a tough Western Conference, they still don't have the incredible expectations of a Cavaliers or Bulls. It's sort of the same holding pattern of that year when Kevin Durant finally turned it on for the Thunder. So, for Davis and the Pels, their season can be whatever they make it to be, in their wildest dreams, of course.
-Michael Depland, @mdepland
New York Knicks – Diet Cig, "Breathless"
In the 1993-94 season, the New York Knicks went 57-25 and went to the NBA Finals. This year, their best hope is that Carmelo Anthony can drag them into the playoffs, and more likely fans will spend their time dreaming of a day when Kristaps Porzingis is ready to take the NBA by storm, a time when Phil Jackson's master plan has panned out. As such, a song that contains the line "Pretend it's 1994" seemed like a perfect fit for this year's Knicks.
-Chris Morgan, @chrisxmorgan
Oklahoma City Thunder – Run the Jewels, "Blockbuster Night Part I"
Much like the duo, Run the Jewels, works because of the combination of El-P's bombastic beats and Killer Mike's lyrical excellence, the duo of Westbrook and Durant works because of Russell's unhinged athleticism and K.D.'s elegant scoring ability. Now that the pair is back together with a surprisingly young supporting cast and new coach, Billy Donovan, the pressure is on for them to bring success home to OKC before Durant and Westbrook's contracts expire. Expect this team to throw "punches in bunches" on the way back to the Western Conference Playoffs. With the best one-two punch in the NBA, there will be "no hocus pocus; you simple suckers been served a notice."
-Spencer Linstead, @spencerlinstead
Orlando Magic – Major Lazer, "Lean On"
The last few years have been pretty dismal for the Magic since Dwight Howard left. However, Orlando has used the down seasons to stockpile young talent such as Nikola Vucevic, Victor Oladipo, Elfrid Payton and Mario Hezonja through top draft picks. Now the Magic are focused and ready to fire on the rest of the league, but lack a star ready to carry the scoring and leadership responsibilities. All they need is somebody to lean on.
-Spencer Linstead, @spencerlinstead
Philadelphia 76ers – Meek Mill, "Wanna Know"
For three years, Sam Hinkie has told Sixers fans to trust his system of tanking to prominence. For a three-day stretch in July 2015, Meek Mill told fans to trust that he would put out a proper diss record for Drake after making allegations of Drizzy's ghostwriting. While both have some bright spots (using The Undertaker's theme/Jahlil Okafor, Nerlens Noel), they ultimately left fans disappointed in the final result.
-Chet Manley
Phoenix Suns – Florence + The Machine, "Ship to Wreck"
It doesn't seem so long ago that the Phoenix Suns were a fiery team and incredible League Pass watch with great guard play and the potential to eek out a win against any team who stepped onto their court. But poor GM moves have made this team become a ship to wreck. Breaking up the Morris twins? Acquiring Tyson Chandler who doesn't play your style of ball? It all just seems like a mishmash of parts they hope will work, but ultimately will probably sink.
-Michael Depland, @mdepland
Portland Trailblazers – Jack-Ü featuring Justin Bieber, "Where Are Ü Now"
This song is clearly written about the Blazers' relationship with LaMarcus Aldridge. Throughout all the injuries and turmoil the team has gone through in the last decade, Aldridge was the team's rock and stabilizing force. Now Lillard and company are left to ask "Where are Ü now that I need you?" While the Spurs eventually got him, it's clear that it's Portland who "need [him] the most."
-Spencer Linstead, @spencerlinstead
Sacramento Kings – Screaming Females, "Hopeless"
The Kings have an ambitious owner, a great coach, and a true elite talent in DeMarcus Cousins. They also have the rotting husk of Rajon Rondo and a roster that doesn't look like it will mesh. Also, George Karl may kill Cousins before all is said and done. In the West, this mess adds up to one song that speaks to their playoff chances: "Hopeless" by the shredding rockers of Screaming Females. Maybe in the East, the Kings could make some noise, but, to use a title from another song off Screaming Females' Rose Mountain, "It's Not Fair."
-Chris Morgan, @chrisxmorgan
San Antonio Spurs – Duran Duran, "Last Night in the City"
This song was chosen because it could be the last ride for guys like Tim Duncan, Manu Ginobili, and perhaps even Gregg Popovich. Also, we wanted to choose a song by a band that would give Duncan fond memories of his childhood.
-Chris Morgan, @chrisxmorgan
Toronto Raptors – Drake, "Energy"
The Raptors employ the "6 God," Drake, as their Global Ambassador, so it only makes sense to use Drizzy's music to signify his team. For a team that has been to the playoffs each of the last two years, they have made lot of enemies. This team is still young, employs talented players like Kyle Lowry, Demar Derozan and DeMarre Carroll and has a GM who's willing to go curse out opposing teams in public. Also the team has some glares holes, "Woes," if I may, like rebounding and interior defense it must address to become a real contender. The Raptors will have the "Energy" to make it to the playoffs, but their enemies might drain them of it before the Finals.
-Spencer Linstead, @spencerlinstead
Utah Jazz – Macklemore & Ryan Lewis, "Downtown"
Have you ever been to Utah? It's an outdoor lover's paradise. Killer skiing and snowboarding, top-notch hiking, sweet white water rafting and leisurely horseback riding. Lots of options. The Jazz, however, want to bring you out of the cold and into the warmth of downtown Salt Lake City. Yeah, do your skiing during the day, but then come check out the Jazz at night. Free hand-warmers for every three Gordon Hayward makes!
-Ryan O'Connell, @rynofrommaine
Washington Wizards – Rihanna, "B*tch Better Have My Money"
The Wizards will play basketball games this year; they'll win some basketball games. John Wall will continue to get better and Bradley Beal will also continue to improve. Sadly, they'll still have one of the worst names in basketball, but at least they are in the Eastern Conference and thus, will have a good chance to make the playoffs. But it's all about next summer for the Wiz and the impending free agency of Kevin Durant, who the Wizards will most certainly make a run at; hoping to bring the native of Washington, D.C. home to join up with Wall and Beal. But the allure of home won't be enough to land Durant. It's going to cost some dollars, so start saving now, Wiz. Come next summer, Durant will only have one question for you.
-Ryan O'Connell, @rynofrommaine