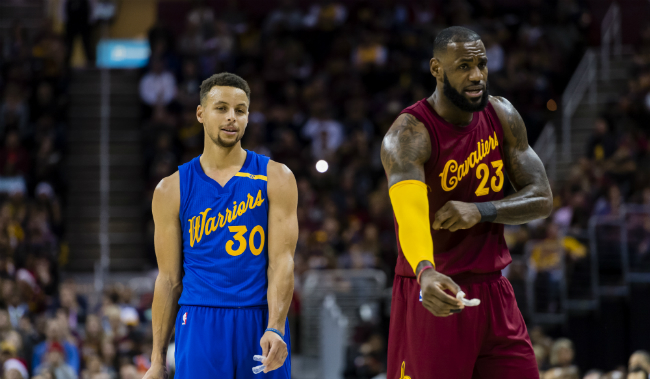 The starters and captains for the 2018 NBA All-Star Game in Los Angeles were announced on Thursday night and there were very few surprises.
LeBron James and Steph Curry will be the captains for the two teams under the new format in which the old East vs. West designations have been removed in favor of a new playground format where LeBron and Steph will draft their 11 teammates from the player pool voted on by fans and selected by coaches.
While the teams will be selected by captains, the players were still voted on by conference, with 12 players coming from the East and 12 coming from the West. The five starters from each conference were released on Thursday night, with the reserves to be announced on Jan. 23 (and the final wild card spots on Jan. 25).
East Starters:
LeBron James (captain)
Giannis Antetokounmpo
Joel Embiid
Kyrie Irving
DeMar DeRozan

West Starters:
Steph Curry (captain)
James Harden
Kevin Durant
Anthony Davis
DeMarcus Cousins
The fans and media voted for all five starters in the East the same, but the players voted Kristaps Porzingis ahead of Joel Embiid in the Eastern Conference.
In the West, the frontcourt starting spots both being taken by the New Orleans duo of Anthony Davis were very interesting. The fan vote had Manu Ginobili ahead of James Harden and Draymond Green in ahead of DeMarcus Cousins. The media would have had LaMarcus Aldridge ahead of Cousins, while the players had all five starters picks correct.