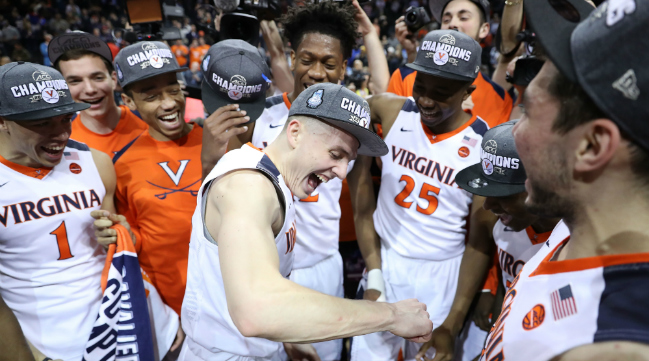 We already knew which teams would get the chance to participate in the 2018 NCAA Tournament, as the fill list of squads was released earlier on Sunday evening. Shortly after the list was revealed, we learned where each team is seeded and what their paths to a national championship will look like.
This year, Virginia, Villanova, Kansas, and Xavier will enter the tournament as its 1-seeds, with Virginia as the No. 1 overall seed in the South, Xavier in the West, Villanova in the East, and Kansas in the Midwest. Their respective regions will have Cincinnati, North Carolina, Purdue, and Duke as 2-seeds.
Here is how the entire bracket will break down, and here is the NCAA's official bracket.

South
1. Virginia vs. 16. UMBC
8. Creighton vs. 9. Kansas State
5. Kentucky vs. 12. Davidson
4. Arizona vs. 13. Buffalo
6. Miami vs. 11. Loyola-Chicago
3. Tennessee vs. 14. Wright State
7. Nevada vs. 10. Texas
2. Cincinnati vs. 15. Georgia State

West
1. Xavier vs. 16. NC Central/Texas Southern
8. Missouri vs. 9. Florida State
5. Ohio State vs. 12. South Dakota State
4. Gonzaga vs. 13. UNC Greensboro
6. Houston vs. 11. San Diego State
3. Michigan vs. 14. Montana
7. Texas A&M vs. 10. Providence
2. North Carolina vs. 15. Lipscomb

East
1. Villanova vs. 16. LIU-Brooklyn/Radford
8. Virginia Tech vs. 9. Alabama
5. West Virginia vs. 12. Murray State
4. Wichita State vs. 13. Marshall
6. Florida vs. 11. St. Bonaventure/UCLA
3. Texas Tech vs. 14. Stephen F. Austin
7. Arkansas vs. 10. Butler
2. Purdue vs. 15. Cal State Fullerton

Midwest
1. Kansas vs. 16. Penn
8. Seton Hall vs. 9. NC State
5. Clemson vs. 12. New Mexico State
4. Auburn vs. 13. College of Charleston
6. TCU vs. 11. Arizona State/Syracuse
3. Michigan State vs. 14. Bucknell
7. Rhode Island vs. 10. Oklahoma
2. Duke vs. 15. Iona