The gambling website BetOnline has combined Twitter geotagging data and the prevalence of the hashtags #WeTheNorth and #DubNation, along with other indicators, to generate a map showcasing the rooting interests of each state in the United States for the 2019 NBA Finals.
In the battle of the USA vs. Canada, Canada is winning by a landslide.
Forty-seven states in the USA – every state except for California, Nevada, and Hawaii – are rooting for the Toronto Raptors over the Golden State Warriors as the Warriors go for a three-peat. The rationale seems pretty clear. Other than the state where Golden State resides, or a couple in geographic proximity without an NBA team, the rest of the country is tired of this era of Warriors dominance and is rooting for a Raptors upset to upend the league's hierarchy.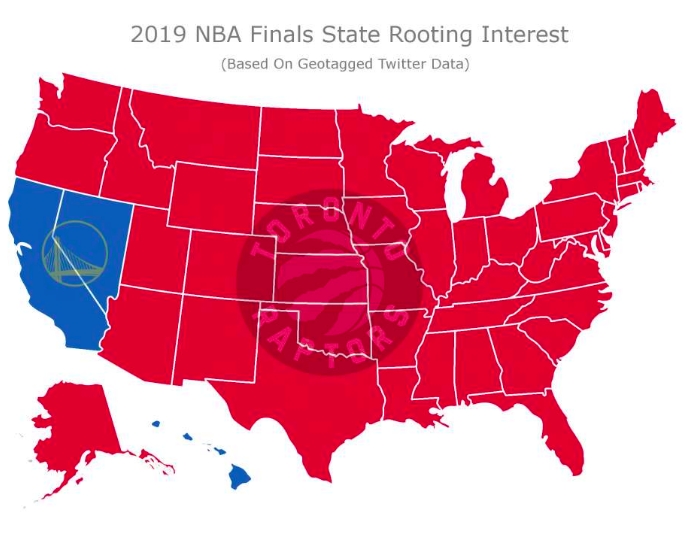 This is also a damning indictment of the fans of the other three teams in California who all have passionate reasons to root against Golden State and somehow can't muster up enough Internet enthusiasm to drown out the Warriors fans. Perhaps all of the Lakers fans really have jumped on the Golden State bandwagon.
The good people of Texas appear to have forgiven Kawhi Leonard as well, although there's probably still more animosity towards the Warriors for injuring Leonard in the first place, thus precipitating his eventual exit from San Antonio.
Regardless of public opinion, Golden State remains the favorite to win its fourth title in five years.