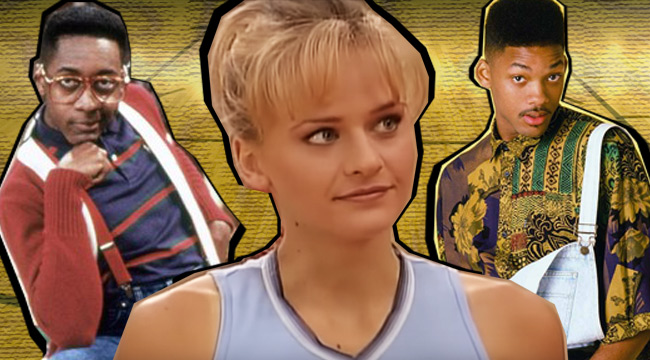 Twenty years ago today, The Fresh Prince of Bel-Air aired for the last time. The popular 1990s sitcom marked the flowering of a future movie star, Will Smith, but it also embraced basketball as a large part of its protagonist's backstory. The opening song and scene where Will's hooping "In West Philadelphia, born and raised" featured a shot that Kobe Bryant unfortunately mimicked during his final season. But that's not the only relevant NBA overlap.
The emotional high-water mark of the show, Will's too-brief reunion with his biological father, has left LeBron James misty-eyed, and even the Tom Jones-loving Carlton gets dap from James Harden.
But the 1990s wasn't necessarily a golden age of sitcoms. Oh sure, it's a potent well of nostalgia for anybody of a certain age, but it was caught with an abundance of channels and airtime, yet without a vibrant creative community the likes of which is around today. There was a lot of sameness, is what we're saying, and much of that sameness expressed itself in episode plotlines.
Somehow, many '90s sitcoms would find a way to work basketball into a plot, with widely varying degrees of believability. Some characters were completely different people on the basketball court, and some had basketball written into their DNA, but a surprising amount of shows worked the hardwood into their respective universes.
To keep a show from getting stale, sometimes you need a change of location, and a basketball court is one of the cheapest locations there is, so a ton of '90s sitcoms had basketball episodes. Some of them existed to jam in celebrity cameos or poke fun at the characters (or both, in the case of Full House).
The Fresh Prince of Bel-Air made up 30 percent of our best basketball moments in sitcom history, so why not use its hoop-heavy background to celebrate its anniversary? So we decided to compose an entire starting team, and one sub, made up entirely of 1990s sitcom characters. Will Smith isn't the only baller from that TV era, even if he's our on-court star.
Point Guard — Steve Urkel
He may be the easiest way to get someone to cringe at '90s memories, but look at him once someone finally gave him a chance! He's a crossover machine who dishes alley-oops. On court, he's some crazy hybrid of Tony Parker with his under-the-rim finger roll game and Allen Iverson's crossover with the charisma of some sort of negative version of either. Family Matters writers had to give Jaleel White something, after all (well, that and Stefan Urquelle).
Shooting Guard – Julie Connor
http://i.giphy.com/l0K46Ylp7YjU3gilO.gif
Allow us a little space here, because this might not be as well-known a choice. Julie Connor was the protagonist of Hang Time, originally a Saturday morning sitcom co-starring former NBA player and perm aficionado, Reggie Theus. The show was set in fictional Deering High School, and revolved around the Deering Tornados boys' basketball team. Except, Julie had such amazing skills, when she arrives at the school as a transfer in the pilot episode, Theus — perhaps ironically, if you know about his notorious womanizing during his playing career (he actually dated Michael Jordan's ex-wife before MJ married her) —- picks her for the boys' team.
Now, it might not seem like much now with a woman finally close to becoming a major party candidate for President of the United States, but in 1995, when the show premiered, there wasn't even a WNBA yet (it came the following spring, actually). So can you imagine what it was like for little girls to see a Saturday morning sitcom ostensibly about basketball, only with a strong woman routinely abusing her male counterparts on the court, instead of the usual Zack Morris clone? And because of the timing, we might not even be talking about Sheryl Swoopes, Lisa Leslie or Rebecca Lobo and the inchoate WNBA if Julie isn't working her on-court magic.
Perhaps that's giving Julie too much credit, but the actress who inhabited the role, Daniella Maria Deutscher, had serious game — or a really good film editor. She showed off her sweet shooting form in the pilot episode above, and we even saw her stand firm and ignore the pump-fake to thwack this shot attempt in a later episode.
http://i.giphy.com/xT4uQ7KPiMTNxLmTSM.gif
If you want a shooting guard who can run the point and guard big shooting guards (think Joe Johnson) on the low block, not to mention sell a ton of tickets and look sharp in a uniform for billboards around town, Julie Connor is who you put on your all-sitcom squad.
Small Forward — A.C. Slater
Okay, so he only played basketball in one episode of Saved by the Bell — his sport was wrestling — but A.C. Slater was an athlete, and had the physique to be a wing stopper. Let Julie and the real star of the team and take the shots, Slater can be the Tony Allen type to do the dirty work. Plus, he presumably got plenty of playing time to work on his game after Zack went down with this crippling knee injury:
Power Forward — Will Smith
JUST LOOK AT THAT. Will Smith may have been impossibly cool in many, many episodes of Fresh Prince of Bel-Air, but nothing was as unrealistic as his prowess on the basketball court. He may have had the height to play center, relative to his high school teammate extras (and cute little Alfonso Ribeiro), but with what we know now about basketball, he looks like a cross between Draymond Green, LeBron James and the Harlem Globetrotters.
Urkel and Connor have serious skills, and Slater would be competent, we're sure, but Will is the star, and not just because of his skills. He's also still Will Smith, and people tend to gravitate towards him. Imagine the Nike commercials alone.
Center — Mark Cooper
He's the tallest player on the team, and though he may have been past his prime at the time of the show, Mark from Hangin' with Mr. Cooper clearly has the veteran wiles to play in the middle like a (very, very) poor man's Tim Duncan. Even if he doesn't have the hops to be a true rim protector, he'd literally be a coach on the floor, and would be an expert at organizing the defensive scheme. With distributors like Urkel and Will on the squad, he'd also be free for plenty of mop-up dunks and, when he's feeling spry, maybe even some pick-and-roll action.
BONUS: Sixth Man — George Costanza
George is a chucker. You know who else is a chucker? Jamal Crawford, and he's been Sixth Man of the Year three times. Chuckers are perfect sixth men. Let George shoot.