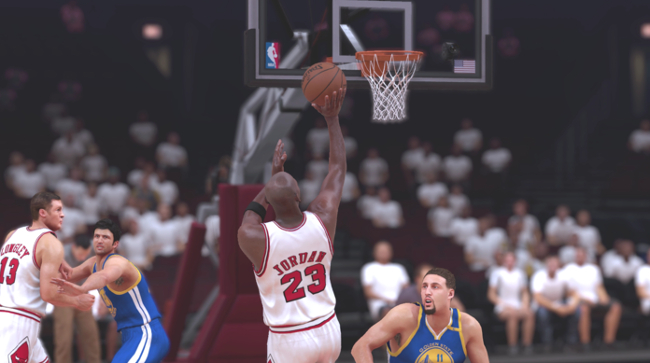 Now that the Warriors have won the 2017 NBA title, the only remaining question is where exactly they stand in the pantheon of the league's all-time great teams. Many find it wildly-premature to place them up there alongside a team like the '96 Bulls, for instance, who own the second-best regular-season record in NBA history and won the fourth of Michael Jordan's six titles in Chicago.
But the Warriors have arguably the greatest collection of talent we've ever seen with their four-headed monster and last year broke those Bulls' record for regular season wins, so the comparisons are inevitable. To settle this debate once and for all, we did what we always do in these scenarios: turned to NBA 2K17 for the answers. You can watch the full simulation here, but in the meantime, let's go ahead and dive into the results.
No surprise here that Michael Jordan had a solid showing with 31 points to go along with three rebounds and three assists, but he didn't get much help from running mate Scottie Pippen, who finished with just 11 points and six assists. Still, the Bulls had five players in double figures to help with the scoring load, so it stands to reason that they might have pulled this one out.
Steph Curry led the way for the Warriors with 35 points, but shot just 6-of-18 from downtown. Kevin Durant, like his foil Pippen, had an off night as well as he finished with just 15 points and like Curry shot a dismal 1-of-7 overall from behind the arc.
So there you have it: the Warriors managed a decisive 14-point victory in this hypothetical, trans-generational battle, despite a terrible three-point shooting performance by their standards. Neither team shot the ball particularly well, and looking at the head-to-head match-up, it appears the Bulls' loss amounted to death by a thousand cuts. Just a few more second-chance points, points off of turnovers, and trips to the free-throw line ended up being the difference in the game.
As we indicated above, both teams had a fairly cold shooting night, but as you can see from the Warriors shot chart, they did a much better job of getting into the paint and finishing efficiently around the rim. Maybe by playing with the Bulls at home the game reverted back to 90s rules and the officials allowed for more contact, because these are rough shooting numbers. Now, let's get to the MVP honors:
Steph Curry ran away with it as he scored 35 points to go along with 11 assists and four rebounds to lead his team to the most important imaginary victory in the history of basketball. We hope this settles the debate once and for all. The Warriors are clearly the best team ever assembled.