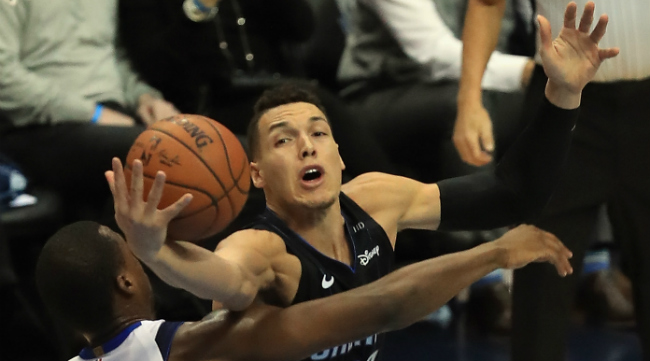 The Orlando Magic are in basketball's version of purgatory. Ever since the trade that sent Dwight Howard to the Los Angeles Lakers in 2012, Orlando has operated in relative obscurity, missing the postseason every year and topping out at 35 wins in a season. The team keeps trying to rebuild, but just hasn't found the answer.
One of the potential building blocks for the franchise has been Aaron Gordon, who has improved every year he's been in the league.
Despite this, the Magic reportedly had Gordon on the trade block this year. The current front office didn't draft Gordon, so it stands to reason that this is a classic case of a player being really good but not a fit within the way the front office wants to build up the team.

That approach could make this summer interesting, as Gordon is a restricted free agent. Sean Deveney of Sporting News wrote that Gordon is going to attract a ton of interest on the market, with a number of teams eyeing up the 22-year-old forward.
League sources told Sporting News this week that the Suns are expected to be suitors for Gordon, who starred at Arizona for one memorable season. Phoenix has ample cap room and a roster in need of more proven players. Another team with interest in Gordon, according to sources, would be the rebuilding Mavericks, who have been eager to find a budding star to fill in alongside Harrison Barnes and Dennis Smith Jr., softening the blow of Dirk Nowitzki's retirement, which could come in just months.

The Pacers intend to investigate restricted free agents, too, hoping to add young talent to an improving roster. Still, if any team makes a formal offer, the Magic can match it.
Deveney also wrote that Gordon's contract "should go a long way toward directing the market for restricted free agency this year." Who knows if it would actually do this, but Orlando does have the ability to match any offer given to Gordon if it wants to keep him around.
If not, some team is going to get an athletic player in his early-20s who has averaged 18.4 points and 8.3 rebounds per game this year while posting a career-high in effective field goal percentage, which certainly fits the bill for the kind of player who is in for a big payday.