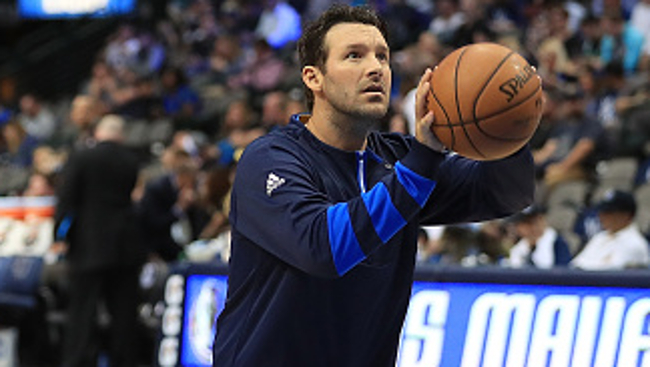 The Dallas Mavericks came up with a pretty fun publicity stunt for their final home game against the Nuggets on Tuesday night when they introduced retiring Cowboy quarterback Tony Romo as a starter. The tried to sign him to a one-day contract, gave him a uniform, and even let him warm up with the squad before the game.
But they stopped short of allowing him to see any actual game action, despite Mark Cuban's protestations. The enigmatic Mavs owner really wanted to see that happen but said commissioner Adam Silver ultimately put the kibosh on that idea and didn't even want Romo to be honored to begin with. Via Todd Archer of ESPN.com:
When he approached NBA commissioner Adam Silver with the idea, Cuban said, "I told him what I was going to do and said, 'Fine me if you don't like it.'"

Silver told Cuban the contract would not be honored, which killed the idea but did not stop the Mavericks from honoring the former Dallas Cowboys quarterback.
Silver was certainly justified in his stance for a number of reasons, not the least of which is preserving the integrity of the game and the league as a whole. And he wasn't the only one who thought that way. Head coach Rick Carlisle played along with the novelty act for the cameras but echoed all the concerns that rightly prevented Romo from seeing the court.
"Signing him and stuff like that, would have been too much for a lot of reasons," Mavericks coach Rick Carlisle said before his team's 109-91 loss. "No. 1, he's a football athlete that's not ready to play in an NBA game. That's very risky. No. 2, to sign a guy with all of our requirements from a physical standpoint with the hours and hours of screening and all that kinds of other stuff, it just wasn't worth going there. And that's not really what this is about."
Still, it added a little levity to Dallas' final home outing given that they won't be making a playoff appearance. The Mavs have one final match-up against the Grizzlies on Wednesday night before they head into the offseason and start regrouping for next year.
(ESPN.com)