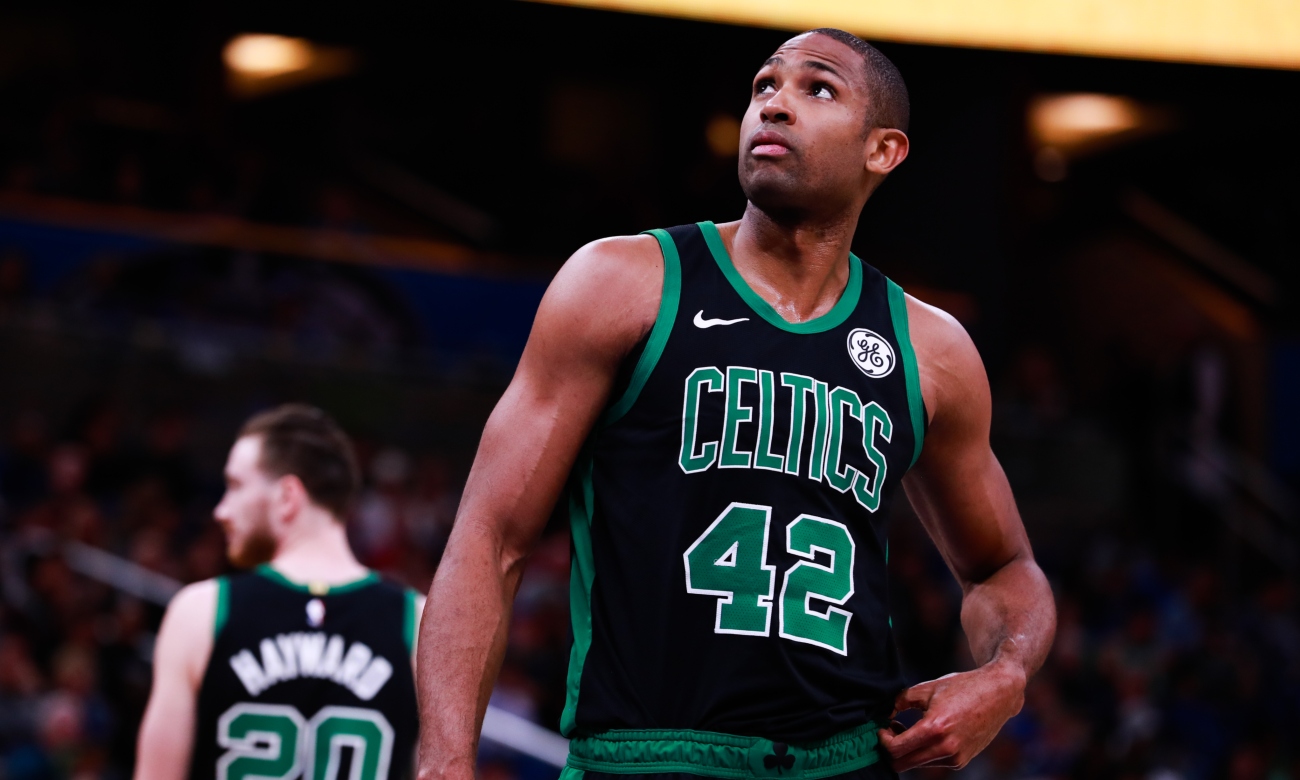 The Boston Celtics entered the 2018-19 season as the favorites to win the Eastern Conference in the first year with LeBron James out west. With All-Star Weekend on the horizon, things have not gone quite according to plan, though, as the Celtics find themselves fifth in the East at 35-21.
It's been far from a bad season in Boston, just a more difficult one than most anticipated. Al Horford is the elder statesman of the starting lineup in Boston, and as such, he has a stabilizing and calming presence on the floor in his 12th season. The five-time All-Star won't be making a trip to Charlotte, but he remains a key cog in the Boston machine, always seemingly in the right place and making the right play on both ends of the floor.
Still, even for a 12-year vet, this season has forced him to make some adjustments, like most of the rest of the roster as they've integrated Kyrie Irving and Gordon Hayward back into the rotation with rocky moments along the way. Recently, Boston rattled off a 9-1 stretch before dropping back-to-back games to the L.A. teams at home, a run that illustrated the great potential of this team and the frustrating inconsistency in level of play they've shown this season.
Horford spoke with Uproxx this week through his partnership with the Built with Chocolate Milk campaign. He offered some honest thoughts about the state of the Celtics, simultaneously being encouraged and frustrated by them playing to the level of competition, why he thinks it took a bit for the team to hit its stride defensively, and pointed out changes he's made with his nutrition plan and recovery over career.

It's been an interesting season in Boston so far. At the midway point, how would you describe the way the season's gone?
I just think it's probably not what we expected, but we're still in a position that I believe if we continue to improve, we'll be fine by the time the playoffs come around.
You play the Sixers tomorrow night, and it seems as though every time y'all play one of the league's best you rise to the occasion. Is that encouraging given the goal is a championship, is it a bit frustrating that the team can't find that edge every night, or a bit of both?
I think it's a little bit of both. I think that you want consistency from the group, but what I do like about our group is, like you said, if we're facing a tough challenge or in a tough position, we usually pull together to get the job done.
With Kyrie and Gordon coming back there were obviously going to be role changes on the team, and various injuries have forced more lineup shuffling. But, now do you feel like most of the guys are feeling more comfortable with the rotations and any changed dynamics from last year to this year?
Yeah, I think that it was a challenge early in the year for all of us to see how we fit in. But I think that by this point I feel like we all understand what our roles are and how we're trying to play. It has gotten better for our group, and that's the reason why, up until the last two games we were on a pretty good run.
This was the first time for a lot of guys on the team to be in the role of favorites entering the season, at least in the East. Do you feel it's taken some time for the team to adjust to that role and the fact that teams are circling Boston games on their schedule?
I think it has been an adjustment for us. In the past, probably, guys haven't been in this position before and being kind of targeted or looked at, like you said, as a game teams are circling, it's different. And there's a different mindset that we're learning to have and to just approach every game ready to go consistently, and I think our key is just that we're able to sustain that throughout games and it's been a struggle a little bit this year that we haven't been able to be as consistent in that at times.

Scoring around the league has gone up this year, and there was a lot of talk early about the freedom of movement rules. You guys and Utah were two of the best defensive teams in the league last year and both got off to a bit of a slow start to the season but have played much better of late. What adjustments have you had to make on that end both personally and as a team over the course of the season?
Well, for us, I don't think there's been any changes. I think more than anything it's just us being more in sync with one another on the defensive end. At the beginning of the year I felt we were kind of thrown into the fire. I think one of the things I can attribute that to, in the past, we've had a lot of time during the training camp period or preseason, and I think this season was much shorter than normal. So less practice time, and I think that had something to do with us probably not where we wanted to be defensively.
As for the rules of the game and those adjustments, coach was very clear about that going into the season and we had an understanding of that, and I don't think that's had that big of an impact on our group. I think our principles are still the same and we can still accomplish what we want to do.
The bigs in the league now are so diverse in their skill sets. I mean just looking at the top of the East with Embiid and then what Lopez and Giannis do in Milwaukee and now Gasol in Toronto. What have been the biggest changes about playing defense at the center position from when you came in the league to now that you've had to adjust to?
Two things jump right out and it's bigs stretching the floor and shooting threes, and that was something you never had to deal with and you could defend completely differently. Now, you have to honor these bigs stretching the floor out and shooting the three-ball. And then, also a lot more pick-and-roll. My first couple years in the NBA, a lot of the bigs it was more post-ups and some pick-and-roll, but now it's a lot of pick-and-roll coverages and the three-point line that's changed everything.
With how much ground you have to cover now and move now, and the goal being to play deep into the playoffs, at age 32 how do you go about ensuring that your body is in the best shape possible so that you have the stamina to be at your best come the later rounds of the postseason?
I think my priorities are that I'm eating the right way, that I'm resting, and recovery it's a big deal for me. So, recovery, whether it's the cold tub, massage work, and then me drinking my recovery drinks post-workout, post-game. I drink chocolate milk and that's, I guess, a secret weapon that I have, and all those things add up for me, and put me in this position.
I've been drinking chocolate milk for years, but I didn't really know the benefits of it. Then I started researching a little more and one of the things it has is post-workout, post-game, it has the carbs, the proteins, even the electrolytes to help you recover after workouts. So, that's why I drink it and I felt a big difference in my body, and I always try to take care of myself the best way I can. That, along with the team. I think they do a great job managing my minutes so I feel good.
You mention doing more research into it. How has your workout and recovery routine and diet changed now that you're in your 12th season compared to earlier in your career in Atlanta?
Since I got to the league I was always very conscious about eating healthy and being well and over the first few years in the league I actually stopped consuming dairy, for example. So, no milk, no cheese. I was still eating protein and things like that, but I was shifting away from a lot of the things I used to eat when I was younger and in college. Then I got hurt and I had my first pec tear and two years after I had my second one, and then I started really looking at my nutrition. I needed to change because I felt like I just kept breaking down, and then I met with a nutritionist and she was like, you need to incorporate dairy back into your diet, because all those things are going to help build your body back up.
Once I started consuming all of those things, I started having a more balanced diet with fruits and vegetables and lots of proteins and good carbs. I started to see a difference right away and ever since my body has been feeling great and I feel like I've been able to play my best. But, it's all about finding what works for you and this balanced diet has really worked for me.