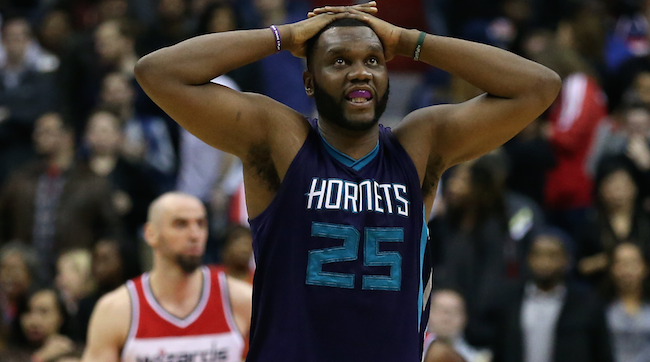 Al Jefferson is a big body. The Charlotte Hornets center has forged an excellent career out of his throwback low-post repertoire, a slow, steady course of feints, shimmies, and clever footwork. But that wholly unique back-to-basket game wouldn't be half as effective if he didn't boast the natural strength that's nearly as rare. Right?
Due to Jefferson's summer eating regimen, we're primed to find out soon. In an interview with Rick Bonnell of The Charlotte Observer, the 30-year-old big man says he lost 20 pounds this offseason by avoiding the staple of every good southern boy's diet: fried chicken.
Fried chicken: Charlotte Hornets center Al Jefferson craves it and he knows it's off his menu in the effort to lose as much as 25 pounds.

So when a certain commercial comes on the television, Big Al grabs for the remote.

"Every Popeye's commercial I see, I have to turn the TV off," Jefferson said Thursday.
Jefferson also tells Bonnell that it wasn't difficult to lose "20-plus" pounds once he "cut out the sugar and starch." And why is he suddenly taking these major steps toward a lighter playing weight? "To take some of the weight off my knees and [get] my body into better shape," he says.
It's a prudent approach by the burly big man and, frankly, one he should have adopted years ago. Jefferson dealt with right knee inflammation for the majority of last season, nagging pain that limited him to 65 games – the fewest he's played in a non-lockout year since 2005-06. Even when Big Al was on the floor, though, he was a shell of the player who led Charlotte to a surprising playoff berth in his first season with the franchise.
The 11-year veteran will never be a defensive plus; he lacks the explosion necessary to make an impact at the rim, and isn't light enough on his feet to effectively corral pick-and-rolls high up the floor. But Jefferson was still a far superior defender in 2013-14 when compared to what he was last season, a reality no doubt gleaned from limited mobility as a result of that nagging knee tenderness. Steve Clifford's scheme doesn't ask him to do much more than be in the right place at the right time and slow ball-handlers until his teammates could recover, limited responsibilities that simply proved too taxing for him in 2014-15.
Getting closer to his listed 265-pound playing weight will undoubtedly make Jefferson a bit quicker, and certainly limit the risk of further knee aggravation, too. 2015-16 is an important year for the Hornets as a team, but it's an important one for him as an individual, too – the Mississippi native is a free agent next summer.
Will the prospect of winning games and signing one last big contract be worth Jefferson's sacrifice of fried chicken? That's only for him to say, but the early returns of drastic weight loss suggest good things to come.
[Via The Charlotte Observer]