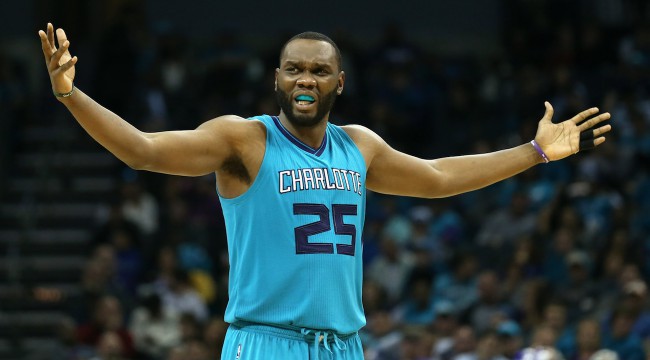 Four states and the nation's capital have legalized recreational use of marijuana. Many more allow it to be prescribed on a medical basis, and our northern neighbor is making an effort to end all restrictions on nature's drug, too.
But the NBA doesn't care for changing governmental policy stances on marijuana, nor the rapidly turning tide of public sentiment. Al Jefferson just learned that the hard way.
The league announced on Wednesday that the Charlotte Hornets big man has been suspended five games without pay for violating its drug program. Though the specifics behind his penalty weren't provided, the only five-game ban in the Collective Bargaining Agreement – as cap expert Larry Coon succinctly explains in his excellent CBA FAQ – is one related to a third offense involving marijuana.
The Hornets expressed "disappointment" over Jefferson's transgression on their website, and he took full blame for his actions.
"I want to apologize to the Hornets organization, our owner, my teammates and my coaches for the poor decision that I made. I know I have let people down, especially the Hornets fans that have been so supportive of me since I arrived in Charlotte two years ago. I am blessed to be able to play the game that I love for a living and I do not take that for granted. From the bottom of my heart, I am truly sorry, and I am committed to making smarter decisions in the future."
The 2014 All-NBA Third Team honoree has missed his team's past three games with a calf injury. Though Charlotte initially estimated his post-rehabilitation return to the floor at two weeks, this ridiculous suspension will keep him sidelined an additional 10 days or so.
Expect Jefferson back on the floor sometime just before the New Year. And as a result of this needless meddling by the league, expect marijuana stipulations to be a major talking point come CBA negotiations in 2017, too.
(Via Hornets)
Now Watch: Who Is The Better Player: LeBron James Or Kobe Bryant?