The Dunk Competition has been the marquee event of All-Star weekend for decades. Players of all shapes and sizes combine to make high-flying, acrobatic, and outrageous art that seems downright impossible.
Last year, it was Zach LaVine versus Aaron Gordon in a must-watch battle for the ages. This year, it's no different and quite possibly better with the amount of freakishly athletic dunkers the NBA recruited. Since 2014, the Dunk Competition has slowly progressed from almost being taken off the NBA's event list back to a must-watch, must-see event. It's fresher than ever, with high stakes and more creative slams.
There's no coincidence that Chuck Millan, owner and founder of Team Flight Brothers, was part of the reason for the resurgence in the NBA's most touted All-Star festivity.
"I went into the contest thinking that I would do a 360 dunk," the Thunder's Victor Oladipo, runner-up in the 2015 NBA Dunk Contest, told DIME. "But after talking with Chuck, he talked me into doing the 540. He told me how to approach it and showed me some examples, one of which I went with and got a perfect score. Now, I'm the first and only person to ever do a 540 in an NBA Dunk Contest."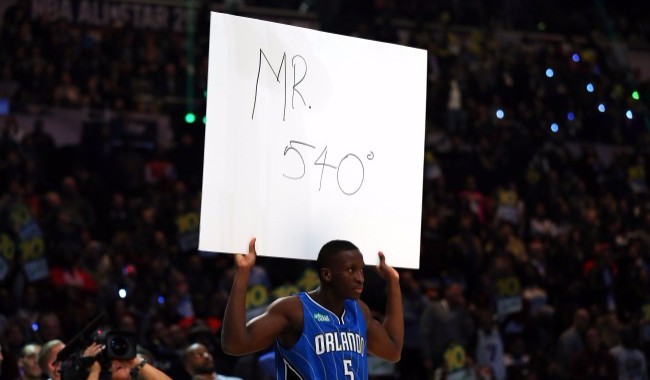 Millan's been doing this his whole life. At the age of four, he watched Jordan win the dunk competition on his birthday and that would be where his fascination with dunking came. When age 13 came around, he says he bounced a bounce a ball in the gym and lobbed himself a one-handed jam. Standing at about six-feet tall, Millan grew up playing the game of basketball but had an extreme infatuation with dunking.
That's when he created Team Flight Brothers, a class of professional dunkers who would change the way we think about dunks.
With over 100 million YouTube views, Team Flight Brothers had made a name for themselves by doing dunks that were unthinkable. NBA guys started to take notice of the highly popular brand, and that's when Millan started to see opportunities overlap with the professional basketball scene.
"Most NBA players don't have time to think of what dunks they should do," Millan says. "So I'm just here to help them understand what's out there and how to execute it. My agent and I call me a 'dunk psychologist,' but I also have an eye for what dunks would be best for each individual player."
Millan has seen it all. From windmills to 50-inch verticals, he's always coming up with new inventive ways to captivate audiences. But it was his first NBA Dunk Contest that would give him more than he would've imagined.
Terrence Ross got lots of help from Millan in the strangely formatted 2014 Slam Dunk Contest. The master dunker also gave pointers to John Wall and Paul George that year. The contest, which famously featured Drake holding a ball for Ross to do a between-the-legs dunk, was a hit success as the East team won in blowout fashion.
"Chuck is living proof that there is more than one way to make it to the NBA stage," Noah Kone, Terrence Ross' manager and owner of K-One Media, said. "We wanted to make a splash in the 2014 contest, and he is the architect behind making that possible."
Since then, Millan has helped the likes of Gordon, LaVine, and many other dunk-contestants through word-of-mouth and reputation. Whether it's texts, in-person or specific training, he's provided the dunk competition and its players with the most unique dunks of our time.
"Chuck's the best at anything dunk," Ross, who was recently traded to Orlando in a deal for Serge Ibaka, says. "I didn't know what I wanted to do or how I wanted to execute my dunks. But he helped me through the whole process and I'm very thankful he was there to help."
Millan isn't hired by the NBA, at least not yet anyway, but he's there to help the players and the competition. Almost all the dunkers in this year's contest have worked with Millan in some way but you may never know it. Millan wasn't in the building for last year's epic contest. That didn't stop him from being a big help in many of the dunks performed.
No matter how much he ends up helping behind the scenes, Millan won't take the credit.
"The players are the ones who have the talent," Millan says. "I'm just here to give them ideas that I think would fit their style."

Millan may play it off like he's not the driving force, but he certainly has a great impact on the future of the Dunk Contest. It's not just how players do dunks, but it's also logistical nuances like what side they'll come from or what hand they'll use. What comes across to many as a minor adjustment may change a dunk's outlook from good to great.
"My goal is to make the dunk competition the best it can be," Millan says.
His influence on the dunk contest is the main reason for why we've seen the event make a historic comeback. With Aaron Gordon surely participating, and newcomers Glenn Robinson III, Derrick Jones Jr., and DeAndre Jordan in the competition, you should expect to see Millan's fingerprints on many of the dunks. Three of those four have worked with him in the past.
So while many who watch this event only keep an eye on the dunkers, make sure to pay close attention to the specific dunks and their technique. That's likely the product of Millan's work, even if he's not the one in the spotlight.