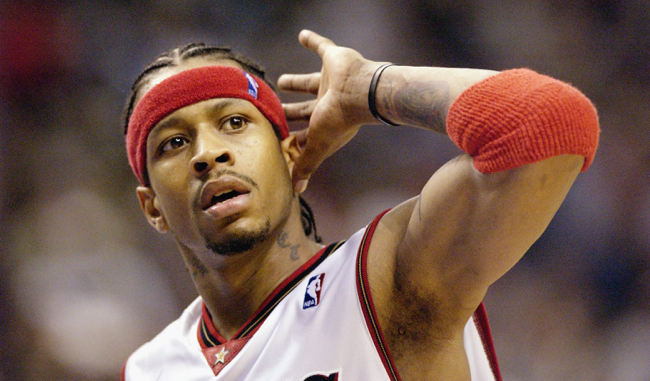 There's been some hype around BIG3, a 3-on-3 basketball league that Ice Cube is creating which will include several retired NBA players. Names like Chauncey Billups, Stephen Jackson, Rashard Lewis, Kenyon Martin, Jermaine O'Neal, and Jason Williams are reportedly all on board with the league, which is fantastic, because watching all of those guys play 3-on-3 in a competitive setting is sure to be fun.
If there's one thing this league could use, it's a little more star power. That's where Allen Iverson comes in. According to Adrian Wojnarowski, The Answer has reportedly signed up to join the 3-on-3 league as a player/coach.
Iverson will be one of eight dual head coach/players in the league, which is backed by entertainment icon Ice Cube and includes Roger Mason as president and commissioner.

Iverson is scheduled to appear at a news conference in New York on Wednesday to discuss his part in the league's summer launch, sources said.
Obviously any time Iverson is in the news for playing basketball, we get pretty stoked, because few things are more fun than watching A.I. clown people on the court. Getting him involved in this 3-on-3 league will surely be great, especially if he's going to be coaching in addition to playing (anything that lets Iverson show off his mind for the game in addition to his ability as a basketball player gets our seal of approval).
The league is reportedly going to hit up eight cities this summer, which have not been announced.
(Via The Vertical)