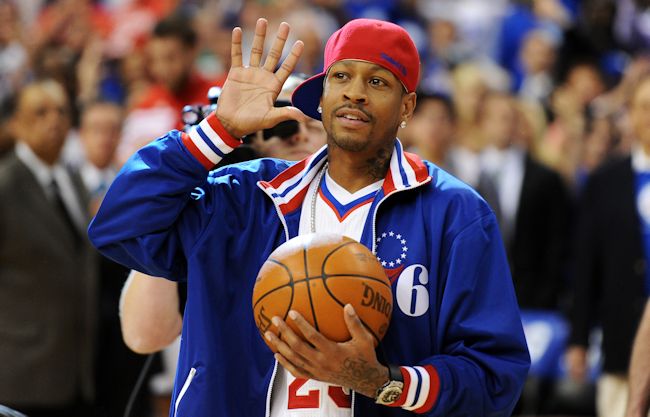 Fourteen years ago today, one of the greatest moments in NBA Finals history happened: Philadelphia 76ers guard Allen Iverson stepped over Los Angeles Lakers guard Tyronn Lue and stared at him like he was an annoying bug he had finally squashed.
And it was a thing of beauty.
Iverson sent Lue to the floor with a crossover while nailing a jumper that was his seventh point in a row. The Answer then looked down at his hapless opponent as he stepped over him, creating an image Lue would never shake for the rest of his career.
And on Saturday, the Philadelphia 76ers decided to remember the iconic moment by splicing the original image into 12 separate photos on Instagram. Take a look for yourself – it's pretty awesome.
Iverson finished Game 1 of the 2001 Finals with a stat line of 48 points, five rebounds, six assists, and five steals while playing 52 minutes, leading the Sixers to an upset victory over the Lakers that would prove to be their only win of the series.
If this play had happened during the social media age we live in now, Twitter would've exploded. Memes and Vines would be created and people would've been falling all over themselves to create the perfect hashtag. Thankfully, though, Philly reminded the basketball world of "The Step Over" in awesome fashion on its 14th anniversary.
Here's hoping the Golden State Warriors and Cleveland Cavaliers give us a single moment half as memorable as Iverson's defining taunt over the duration of these NBA Finals.
(Via Philadelphia 76ers)