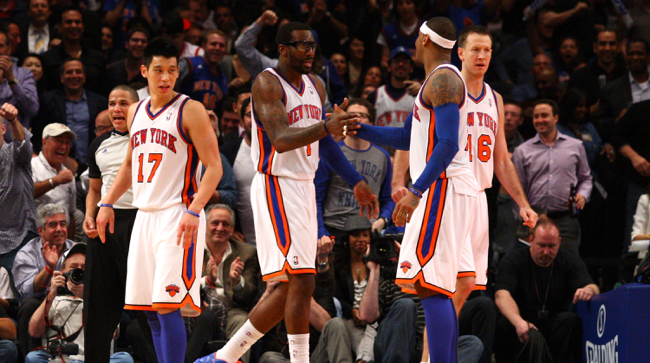 The Linsanity "era" of the New York Knicks is long gone, but it's apparently still a conversation point—at least for Amar'e Stoudemire, who no longer plays for the Knicks. Upon his return to New York for Miami's game against the Knicks on Sunday — the Heat won, 98-81 — Stoudemire made an interesting comment about former Knicks guard Jeremy Lin, now with the Hornets, and the general hierarchy of star power in the league. In short, Stoudemire implied some on the team weren't happy about Lin's meteoric rise to fame.
"If he stayed, it would've been cool," Stoudemire told ESPN.com. "But everyone wasn't a fan of him being the new star. So, he didn't stay long. But Jeremy was a great, great guy. Great teammate. He put the work in and we're proud of him to have his moment. A lot of times you gotta enjoy someone's success. And that wasn't the case for us during that stretch."
Stoudemire didn't have to name names because it doesn't take a rocket surgeon to believe he was speaking about Carmelo Anthony. Not only is Anthony the unquestioned star of the team, but he's a New York guy. He was born in New York, played college in state at Syracuse and made a homecoming return to the city five years ago. For Melo, being on the Knicks is personal.
Of course, Anthony denied Stoudemire's comments were about him in the same ESPN piece:
"Still?" Anthony asked when told that Lin came up when reporters talked to Stoudemire. "That was [four] years ago? I don't know. I don't have no comment about that. If [Lin] was becoming a star, we should embrace that. I don't know. We didn't embrace it? Was that the word?"

"S—, if that was the case then I'd be upset right now with KP [rookie fan favorite Kristaps Porzingis], if he's talking about me. I doubt if [Stoudemire is] talking about me. I doubt that. I highly doubt that."
There's no way Anthony is going to corroborate Stoudemire's comments publicly. And, in fairness to Anthony, he could legitimately feel that way. However, the Porzingis comparison is interesting. The first-round draft pick is definitely a star in the making, but Linsanity became a thing right around the time Anthony came to New York. It wouldn't be unreasonable to think Anthony felt overshadowed.
We'll probably never know for sure, though.
(Via ESPN.com)
Now Watch: Meet The 5 Best Trash Talkers In The NBA