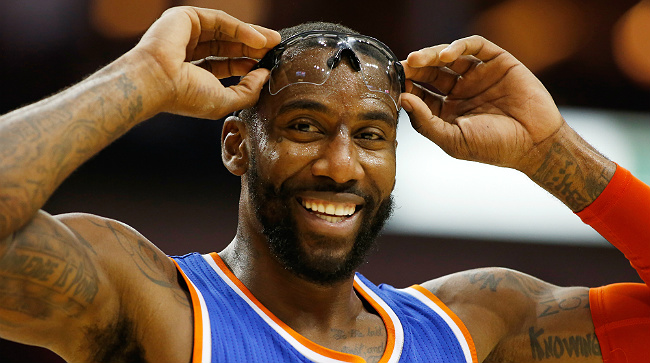 The summer of high-profile NBA retirements continued on Tuesday afternoon. Following Kobe Bryant and Tim Duncan stepping away, Amar'e Stoudemire, one of the most exciting players of the 2000s and a defining member of the Seven Seconds or Less Phoenix Suns, announced his retirement after a 14-year NBA career.
Stoudemire signed a non-guaranteed contract with the New York Knicks so he could retire as a member of the organization where he spent almost five years of his career from 2010 to 2015, and the team made the announcement in a press release on Tuesday.
"I want to thank Mr. Dolan, Phil [Jackson] and Steve [Mills] for signing me so that I can officially retire as a New York Knick," Stoudemire said. "I came to New York in 2010 to help revitalize this franchise and we did just that. Carmelo [Anthony], Phil and Steve have continued this quest, and with this year's acquisitions, the team looks playoff-bound once again. Although my career has taken me to other places around the country, my heart had always remained in the Big Apple. Once a Knick, Always a Knick."
The last several seasons of Stoudemire's career were forgettable and injury filled, so for younger fans, it's easy to gloss over just how dominant he was in his prime. During his peak years in Phoenix, he was that era's defining athletic big man, essentially the missing link between Sonics-era Shawn Kemp and Blake Griffin. Alongside Steve Nash, he formed one of the most dynamic pick-and-roll duos in recent memory. There's a reason those mid-2000s Suns teams are still revered by fans even though they never won a championship: they were both really good and really fun to watch.
It's a little strange that Stoudemire decided to sign a ceremonial contract with the Knicks to announce his retirement rather than with the Suns, since most of his tenure in New York was disappointing and marred by injuries and declining production. But his decision in 2010 to sign in New York was a pivotal one. The Knicks had set up everything that summer to make a run at the marquee free agents on the market, including LeBron James, Dwyane Wade, and Chris Bosh. Those three, of course, signed together in Miami, leaving the Knicks with Stoudemire as a big prize. But it wasn't just a consolation prize for them, or a team offering him the most money leading him to sign there. After signing, he declared, "The Knicks are back," and throughout his tenure there, seemed to truly embrace the idea of being "the man" in New York, which endeared him to fans right away.
For the first half of his first season in New York in 2010-11, Stoudemire was one of the best players in the league. His role shifted in February when the Knicks traded several key players and picks for Carmelo Anthony, and he never produced in that way again. But he was still extremely popular with fans and teammates in New York.
In the final years of his career, Stoudemire bounced from Dallas to Miami, becoming more of a role player than a starter, years of knee injuries having robbed him of his once-otherworldly explosiveness. But his place in NBA history is permanent, as one of the defining players on one of the most fun cult-hero groups of its era in Phoenix.