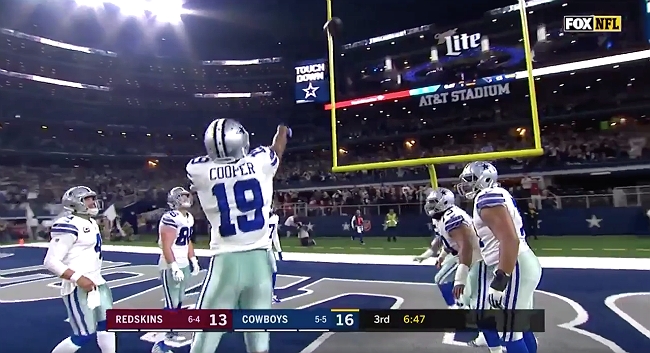 Amari Cooper arrived for the Dallas Cowboys on Thanksgiving night. The Cowboys trade acquisition had scored a touchdown, sure, but after a few weeks with Dallas and no catches of more than 30 yards, people wondered if the big plays that made him famous at Alabama and with the Oakland Raiders was gone for good.
That certainly changed on Thursday night, as Cooper had two huge scores in the second half to give the Cowboys a lead. A 90-yard touchdown at the end of the third quarter stood as the longest play in the NFL this season, and it showed a flash of his speed and potential on a Cowboys team where Dak Prescott is willing to huck it.
Cooper's second score was a tremendous individual play, but the first had the better celebration. Prescott hooked up with Cooper down the seam for a 40-yard touchdown that gave Dallas the lead back.
His celebration took a distinct shot at struggling Philadelphia 76ers sophomore Markelle Fultz. As the camera panned around Cooper facing the goal posts, Cowboys players lined up around him like he were at the foul line. Cooper then batted the ball between his hands and then awkwardly pushed it away like a foul shot, shooting the football through the uprights.
It's a pretty solid resemblance to Fultz's latest attempt at a free throw shooting motion, as he continues to struggle through his shoulder problems. Looking at them back to back, it's pretty clear that Cooper was referencing Fultz in his celebration.