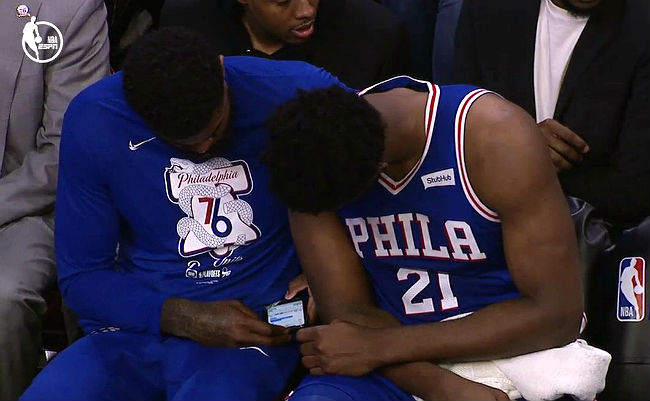 The Philadelphia 76ers were caught off guard during Game 1 against the Brooklyn Nets. Despite the game happening in Philly, Brooklyn came ready to play and took it to the three-seed in the Eastern Conference. Between the Nets playing with the swagger and carelessness of a team that had nothing to lose, the Sixers looking awfully tight and struggling to hit a shot, and Joel Embiid not looking quite like himself due to lingering knee soreness, Brooklyn stole home court and picked up a 111-102 win.
While all this was happening, reserve big man Amir Johnson found himself in some hot water because of a moment on the bench caught by ESPN's cameras. It's unclear when this happened, but during the fourth quarter of action, ESPN aired a clip of Johnson sitting on the bench next to Embiid. Johnson pulled out his cell phone and was very obviously texting someone while Embiid looked on.

As Bobby Marks of ESPN pointed out, this has the potential to be a problem.
Now, making assumptions during this sort of thing can be dangerous, but as anyone who has ever seen an iPhone can tell you, Johnson very obviously was using Messages. Who knows what it says, if he was having a conversation with someone during the game, or if he was relaying some message to Embiid, but this is not a great look for Johnson. We'll keep you updated as more information becomes available.