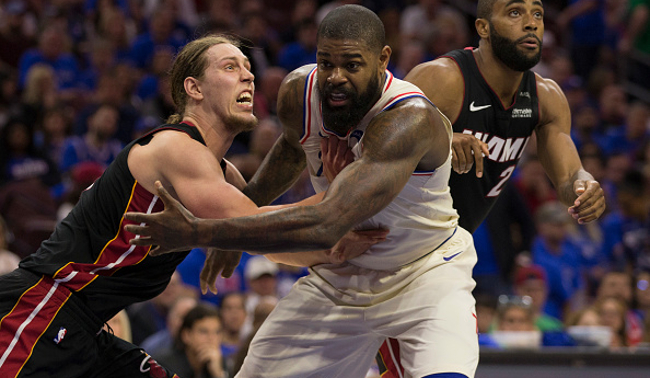 Amir Johnson is a savvy NBA vet who's been around the league for more than a decade, in no small part because he brings a gritty blue-collar work ethic to every roster he's been a part of.
He's given the Sixers some quality minutes during their opening-round series against the Heat so far, but perhaps his biggest contribution has come in the form of some sage advice for the younger fellas on the team, as he can speak from personal experience about the various perils of NBA life as it pertains to maintaining your focus amid the myriad distractions that arise.
More specifically, Johnson apparently warned his teammates about the allure of the Miami nightlife as the series shifted back to South Beach for Games 3 and 4, making the rather stunning revelation that it was the reason his 2006 Pistons fell to the eventual champion Heat in the playoffs that year.
It's difficult to believe, given Chauncey Billups' no-nonsense leadership, but you can never underestimate the wild card that is Rasheed Wallace and just generally the allure of South Beach.
Regardless, the 2018 Sixers apparently heeded that advice as they went into Miami and took care of business to seize a commanding 3-1 lead as they head back to Philadelphia for a potentially series-clinching Game 5 on Tuesday.