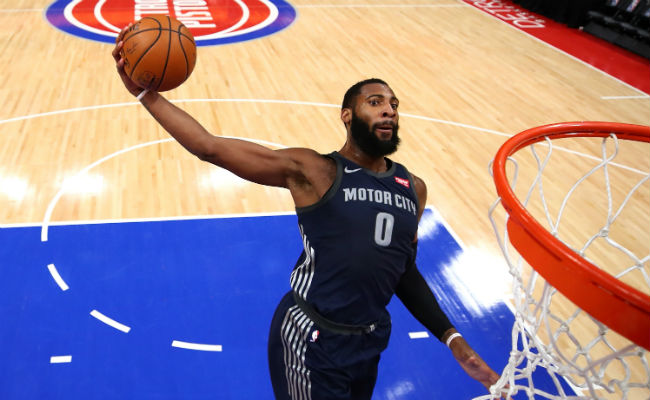 Andre Drummond is looking forward to a bright future in Detroit. The newly-minted All-Star has had a turn of fortunes this week, seeing an 8-game losing streak end Tuesday night in Cleveland with a 125-114 win over the Cavaliers and some hope on the horizon in the form of reinforcements.
The Pistons made a massive trade for Blake Griffin, who did not play on Tuesday night but is set to join Drummond in Detroit to start a new era in the Motor City. It's an era that Drummond, who was named an All-Star shortly before the game against the Cavs on Tuesday, is excited to be a big part of.
Finally free of the losing streak and a member of Team LeBron, Drummond looked to the future of the Pistons with optimism as he's set to make up one half of one of the league's most formidable frontcourt pairings.

According to ESPN, Drummond spoke of the "new empire" he'd like to build in Detroit with Griffin following the win over Cleveland.
"I'm excited," Drummond said after scoring 21 points and grabbing 22 rebounds in a win over the Cleveland Cavaliers on Tuesday night. "It's a new chapter. We've got three new guys coming in, so it's something to really look forward to. Obviously, Blake is a hell of a player, a great passer, as well too, so I'm looking forward to building this new empire with him."
Drummond compared himself to another big Griffin played with in Los Angeles — DeAndre Jordan — and said it will be fun to collaborate with Griffin offensively.
"I think I got a little more to my game than DeAndre does offensively," Drummond said. "But I think it's going to be a lot more fun."
Drummond and Griffin will have to carry the load in Detroit, given how much each player is set to make. With both making more than $25 million each year for the next two seasons, it might be tough to bring in major assets to compliment them. But Drummond is excited, and he and Griffin will certainly have a lot to prove, starting with a run at the playoffs this season.