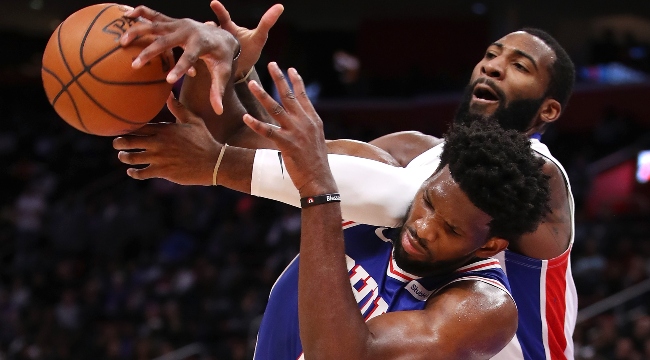 The latest chapter in the rivalry between Andre Drummond and Joel Embiid was written on Tuesday night, when the two big men faced off in the Detroit Pistons' overtime win over the Philadelphia 76ers. While the main story of the night was Blake Griffin having the game of his life, the underlying subplot of the game was the interactions between the two centers.
Embiid made it a point to provoke Drummond, with everything coming to a head when the Sixers center flopped and, in response, Drummond picked up his second technical foul of the game and got tossed. It would have been tremendous heel work by Embiid if it was professional wrestling, but since it's basketball, it was viewed more as a nuisance than anything.
After the game, Embiid gave his thoughts on Drummond, continuing his trash talk towards the Pistons big.

When Embiid was asked whether the owning real estate in his head line meant he is able to frustrate Drummond, he responded
"Clearly," Embiid said "I mean when you look at the stat sheet, I guess you could say … but then again, that's a tough loss."
Drummond, to his credit, wasn't going to let this jab from Embiid slide. He responded to the video and theorized that there's a reason that Embiid tries so hard to get him booted from games.
Of course, the most logical answer here is that Embiid gets Drummond tossed because he finds it funny and he'll keep doing this until it stops making him laugh. But I do suppose that Drummond's theory holds water, and as he said, he's happy to get tossed from games as long as Detroit picks up wins.