Andre Drummond is the reigning Eastern Conference Player of the Week.
The Detroit Pistons star is averaging 20.3 points, 19.8 rebounds, and 1.8 blocks per game this season. He scored 25 points and grabbed 29 boards in his team's loss to the Indiana Pacers on Tuesday night. And maybe most impressively, Drummond is the only player since the merger to notch at least 81 points and 78 rebounds over his team's first four games.
Even better? On the back of their ascendant big man, the Pistons are playing some of the best basketball in the Eastern Conference. Stan Van Gundy's team is 3-1 with wins over a trio of playoff hopefuls in the season's early going, and Drummond is its two-way bellwether.
Disclaimers: The sample size is tiny, obviously, and Detroit's bench has been absolutely dismal on both ends of the floor thus far. Other Pistons starters sport huge discrepancies between on- and off-court ratings, too. But either way, Drummond's impact on his squad's success reigns supreme – maybe more than any other player's in the NBA.

The 22-year-old's off-court numbers, believe it or not, are team-worsts across the board. Those on-court ratings are high-water marks for Detroit, too, which hints that he's quickly become the all-court terror Dwight Howard was for Van Gundy during the odd couple's heyday with the Orlando Magic near the turn of the decade.
But eye-popping statistics and the overarching takeaway gleaned from them paint too simple a picture of Drummond's performance throughout the first week of 2015-16. Though he's made clear strides as a back-line helper and even flashed a much-improved free-throw stroke before regressing against Indiana, the Pistons' budding superstar is just that for a reason: He still has so much room to grow.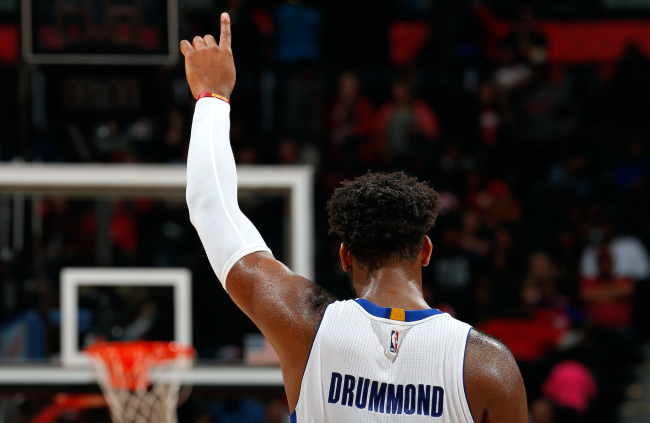 It's a common, tired misconception that modern big men must thrive from the block to prove their worth. The game has changed. Unless he can make something close to 50 percent of his attempts in the post or draw extra defenders, there's no incentive for a team to construct its offense around a high-usage back-to-basket player.
Howard is the perfect example, actually. He was indeed a much more effective playmaker down low before suffering debilitating back and shoulder injuries around the time he left the Magic, but still never quite boasted the post-up prowess normally associated with MVP-caliber centers. Howard served as the fulcrum for Orlando's offense nonetheless, though, precisely because he was such a devastating pick-and-roll dive man and his team built its offense in a manner to maximize the sweeping effects of those gifts.
The Pistons didn't do the same with Drummond in 2014-15, but Van Gundy ensured they would going forward by thinking big picture with regard to personnel moves this summer. Greg Monroe was likely to leave Detroit in free agency regardless of his incumbent franchise's wishes, but it certainly bears mentioning that the Pistons weren't exactly upset to see him leave, either. Ridding his roster of a second talented, traditional big man freed Van Gundy to craft Detroit's identity around the talents of Drummond, and he's done just that as both an executive and coach ever since.
The offseason additions of Ersan Ilyasova and Marcus Morris were bigger for the Pistons than name recognition suggests. Spacing is ultra-important in Van Gundy's offensive scheme, and both players afford it in spades as threatening 3-point shooters who play nominal power forward. The result? More room for Drummond and Reggie Jackson to make hay in ball-screen after ball-screen.
No ball handler in basketball has used more pick-and-rolls than Detroit's point guard this season, and only 10 players have "rolled" in those situations more often than Drummond so far. But efficiency matters more than frequency, and the Pistons' duo stands a cut above the rest in that regard, too. Synergy rates Jackson in the league's 83rd percentile when dishing to his diving ball-screen partner, while Drummond currently ranks in the 91st percentile of all rollers.
Detroit, basically, will exist in the pick-and-roll offensively more than anywhere else this season, and that's exactly how Van Gundy likes it. But unpredictability is necessary for consistent success at the highest level, which is exactly where the Pistons want to go – in the long-term future, certainly, but also come next spring.
While efficient post play isn't a necessary frontier for any big man, it can still add a crucial dose of dynamism to games of both the individual and his team. Drummond has ambitions of doing just that, and Van Gundy gave him a leash to try during his first season roaming the Pistons' sidelines. Calling that experiment an abject failure isn't quite fair; Drummond was definitely more comfortable on the block in his third NBA campaign than the pair of prior ones. But his 38 percent shooting on 344 post-up chances, according to Synergy, wasn't good enough enough to justify so many touches, and unsurprisingly failed to goad attention from the defense that led to team-wide proficiency, either.
Did a summer of work honing his back-to-basket repertoire make Drummond a more viable option on the block? The early returns aren't encouraging, but that hasn't stopped Van Gundy from giving his franchise player every opportunity to prove them wrong.
Despite Drummond missing badly on three separate post-ups in the initial minutes of last week's opener, Detroit kept going back to him – and hasn't stopped in the interim. The question now is how long Van Gundy will continue doing so if Drummond continues to struggle as the season progresses. Though he's scored just 12 points and is shooting a horrid 26.1 percent on the block, the fourth-year veteran has compiled 26 possessions from there up to this point – more than every player in the league but Nikola Vucevic, Zach Randolph, LaMarcus Aldridge, and Al Jefferson.
Drummond ranks in the fifth percentile of all those who have garnered at least 10 post-ups, but not even that paltry number tells a sad enough story about his adventures on those occasions. What does? A lot of the film, unfortunately.
The ease with which the 6'11, 280-pounder moves his feet is truly a sight to behold. Drummond is among the most agile behemoths basketball has ever seen. How many giants in history could rip Dwyane Wade's dribble and lead the break twice in as many possessions?
But that grace and fluidity abandons the Pistons center more often than not when he catches with his back to the hoop. Watching Drummond hold the ball, let cutters clear, and go to work in the post serves as the single biggest reminder of just how raw he remains despite gobbling up points and rebounds like no player ever has.
He somehow dribbles both robotically and wildly; flings timid hook shots before turning his shoulders; doesn't do work early by fighting for deep position; has no base despite an ample posterior; lacks any semblance of a reliable left hand; and perhaps most frustratingly, uses his nearly unmatched physical gifts on only fleeting occasion.
For all intents and purposes, it's as if Drummond has had almost no formal schooling in the art of post play. Not every big man is Kevin McHale from the beginning. And for the overwhelming majority who aren't, grasping the basics of scoring down low and maximizing the talents they already possess should take immediate precedent over anything else.
But Drummond hasn't done either one, and it's making him a much less effective post-up option than he should be. Sealing his man deep at every opportunity and initiating shoulder contact with one quick bounce would afford him the space that's currently necessary for him to shoot with comfort. Implementing those fundamentals would be relatively easy, and the payoff would be immense. That Drummond has yet to do so on a consistent basis as his fourth professional season gets underway is troubling. Any other takeaway is to ignore simple reality.
The good news for Detroit, though, is that its cornerstone has already made progress in that regard since his utterly sophomoric showing in the post against Atlanta. Over the Pistons' last three games, Drummond has made a concerted effort to curb his most debilitating low-block tendencies. He's taking fewer dibbles, beginning his move with much greater haste, and is finally using his blend of power, length, and quickness to its inevitable advantage.
That's promising stuff, and indicative of the type of post play that could eventually become a workable aspect of Drummond's game. The only way that will come to pass, however, is if he's given chance after chance to make it so during game situations.
If Detroit were a clear bottom-feeder in 2015-16, developing Drummond as a primary scorer would be the team's top priority. The same would prove true if the Pistons were assured of a playoff berth. But Van Gundy's team is likely closer to the middle of the spectrum than either end of it, which means allowing Drummond room to explore his post-up merits – along with more more of the club's big picture aspects – will represent a tricky balancing act between playing to build and playing to win.
Fortunately, Detroit lives in the East. If this organization were stationed a few hundred miles West, victory above all else would be its necessary edict. With Van Gundy guiding a balanced, if shallow, roster led by a pair of talented youngsters on both the interior and perimeter, though, the Pistons have legitimate postseason hopes this season.
And if Drummond ever becomes anything better than a devastating lob-catcher, glass-cleaner, and shot-blocker, Detroit's future aspirations will soon render their current ones minor. But whether or not that actually occurs still very much remains to be seen.
*Statistical support for this post courtesy of nba.com/stats.