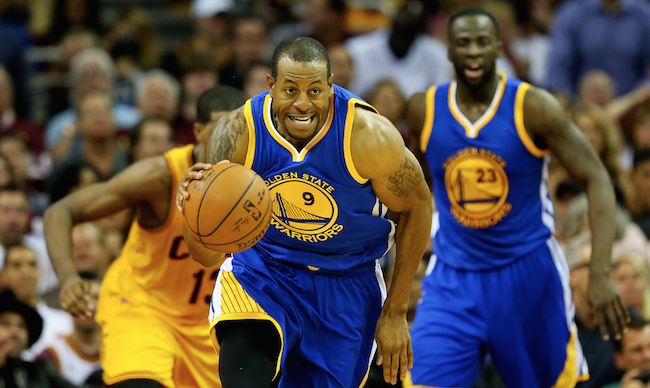 Oh, Twitter. You know just how to send entire fan bases into DEFCON 2 panic mode at a moment's notice.
Andre Iguodala, the MVP of the 2015 NBA Finals, decided he'd have some fun with fans thanks to an article from the San Jose Mercury News, which reported that head coach Steve Kerr didn't anticipate starting Iguodala next season:
"I saw him at the postgame party in Cleveland, went up and said, 'Congrats, MVP, you were incredible, what a job. And you're going back to the bench next year,'" Kerr said. "And he laughed. And I laughed. Obviously kind of a joke.

"But I don't anticipate changing anything. We won 67 games with the group that we had. And we've got our core back, just about everybody's back. And more than likely we'll play it the same way. But you never know how things go. We'll see. But the good thing is we're capable of playing a lot of different ways with a lot of different combinations, as we showed throughout the season."
Iggy, of course, became the first player to win the finals MVP without starting every game. As much as he'd love to start, Kerr is right that the core lineup worked. This is something he and Iggy have apparently talked about. But, what's the offseason without a little fun at everyone else's expense?
Suffice it to say, fans were exhaling simultaneously.