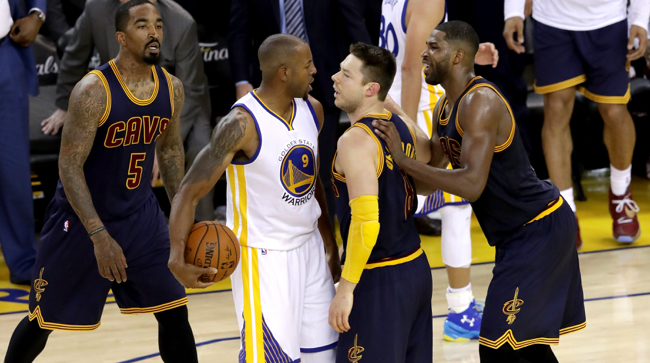 Andre Iguodala is a veteran. He's also the steadying hand for a Warriors team three victories away from repeating as champions and staking their claim as one of the greatest basketball teams ever assembled. So we should all listen to him when people talk about how dirty Matthew Dellavedova might be.
The Aussie import was all over the news during Cleveland's run to the Finals last season. The man starting in front of him, Kyrie Irving, went down after a superb Game 1 in those Finals, but Uncle Drew had been banged up before in the postseason and Delly made the most of his opportunity; although, the latter's scrappy style had a tendency to rub opponents the wrong way.
He got entangled with Taj Gibson in the Conference Semifinal round against Chicago, after which Gibson was then ejected for retaliating. Al Horford, as genial a big man as you'll find in the Association, put an elbow drop on poor Delly in the Conference Finals after he thought Matthew dove at his knee.
Thursday night's Game 1 seemed to be more of the same, but this time, Delly's defensive exuberance affected Andre Iguodala's groin. Because Iguodala was the one who got hit, wouldn't he also be the first one to call out Dellavdedova if any sort of premeditation had been detected?
Igudoala did use the word "dirty," except it was a compliment. Via Ethan Sherwood Strauss of ESPN:
"I'm not going to judge or say anything negative about him," Iguodala said after the Warriors' 104-89 win. "He's out there competing. There are a lot of emotions going on out there. I respect a lot of guys' hustle in this league. You've got guys who've got to get a little dirty, got to be a little physical, to make a life and to feed their family, so I can only respect that. For me, it's just keeping my composure and continue to try to do things for my team to help us win."
"I can only respect that." If the person who just got slapped in the nuts can keep their calm and actually empathize with their testicular tormentor, maybe you oughta hold off on labeling Delly the bad kind of dirty, too.
(ESPN)