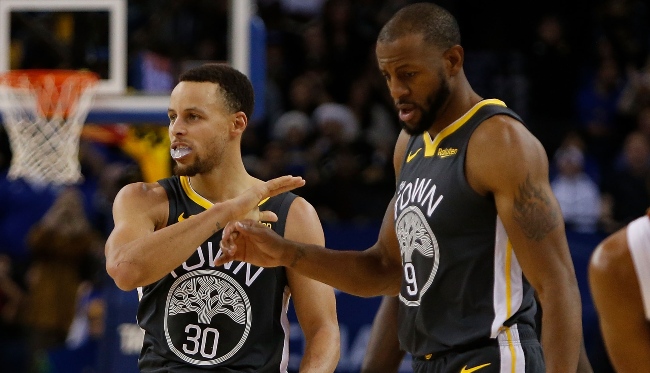 Steph Curry has been out of his mind this postseason, especially since Kevin Durant went down with a calf injury. The Golden State Warriors' two-time league MVP is averaging 27.3 points, 6.3 rebounds, and 5.3 assists per game during the playoffs, and following Durant's injury in Game 5 of the Western Conference Semifinals, Curry has been extra lethal, scoring at least 33 points in each outing.
The latest reminder that Curry is among the best to ever do it came on Monday night, when he put forth a 37-point triple-double to spearhead a comeback and clinch a sweep of the Portland Trail Blazers. Now, with some time between the series win and the NBA Finals, conversations are popping up about Curry's place in NBA history, thanks in part to Warriors teammate Andre Iguodala.
In a piece by Marcus Thompson of The Athletic, Iguodala is quoted as saying that he believes Curry is the second-best point guard to ever live.
"I think he's the second best ever," Iguodala said. "I always thought that about him. I knew but other people didn't know. So I wasn't surprised when he took over that series. But I always gave Tony Allen credit. Playing against him made you understand the grind of how hard it is to win. It's supposed to be hard. You're supposed to have to find another way. It's supposed to be uncomfortable. He just embraced that. Just ingrained that into his system and it's been there ever since."
(A note: There was a bit of confusion about whether this meant point guard or overall player behind Michael Jordan, but Thompson eventually said he was being sarcastic about the latter, and that Iguodala meant point guard, a statement he has made in the past.)
Curry has certainly established himself as an all-time great already, both in terms of what he's accomplished and the impact he's had on changing the way teams play basketball. Conversations about legacies, especially when players are still in the midst of their careers, are always a bit tricky, but putting Curry among the best point guards ever is certainly not premature. As for whether the only guy above him is Magic Johnson, well, Iguodala seems perfectly content to spearhead that conversation.