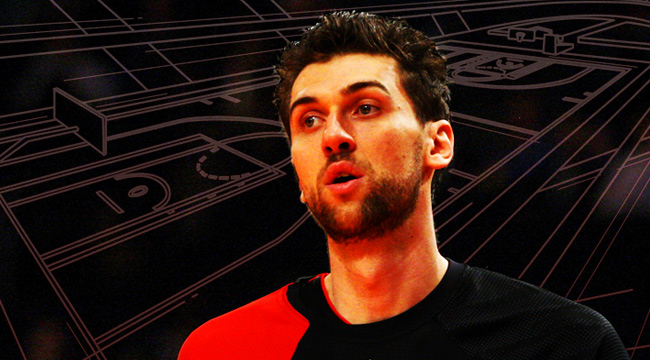 Andrea Bargnani hasn't retired, but he doesn't sound unhappy with the idea.
In a social media post, the top overall pick in the 2006 draft explained his recent decision not to seek employment as a basketball player in 2017-18, Sportnando passed the translation along:
In all (or almost all) the messages you ask me the same things, the questions that you make me when you stop me on the streets: how I am and when I come back.
And…
So, I wanted to tell you that I am physically fine but, after the breaching of my last two contracts, wanted by myself, I am not looking for a club. All of the news you have read on my on newspapers, especially market news, have been invented (and this is nothing new).

The reasons why I am not looking for a team are a lot and almost all of them are personal.
It is always good when concepts transcend translation. There's a lot going on here, the 32-year old former Toronto Raptor wants us to understand, but nothing you need to know about.


Bargs sent the message from Hong Kong, and he's nine months removed from his injury-impressed release from Baskonia, a Spanish League club.
Andrea last played in the NBA for the Brooklyn Nets in 2015-16, he likely finished his stateside career with marks of 14.3 points and 4.6 rebounds in 29 minutes a contest, working an average of 37 games per season since the league's 2011 owner lockout.
Bargnani's two No. 1 successors, 2007's Greg Oden and 2008's Derrick Rose, are also away from basketball at the moment. Anthony Bennett, prize of 2013, doesn't seem far behind. Top overall picks are supposed to change franchise outlooks, but we're used to these sorts of things slipping away.
The whole top of the 2006 draft slipped through everyone's fingers. No more chain pizza in the War Room.


As 2005-06 sprung, LaMarcus Aldridge looked the prize of the 2006 NBA draft, an image he's sustained through 2018. The league went out of its way to deny him even the Joe Smith treatment, though, in the months leading up to what should have been obvious.
LMA was saddled for the entirety of his sophomore year at Texas with snipes about his interest in banging with the boys down low, a reasonable fear given the Detroit Pistons' grasp on the proceedings at the time, clicked away from every time Daniel Gibson or Kenton Paulino failed to make a proper entry pass.
He was the stud from the start, though, acknowledged midway through his final year at Texas as more or less the player you see a dozen years later in San Antonio: LaMarcus gets to his spots and does what he can.
That wasn't enough for the length of the NBA's 2005-06 season. It had to go and try to be cooler and more cufflink-cunning as the year moved along.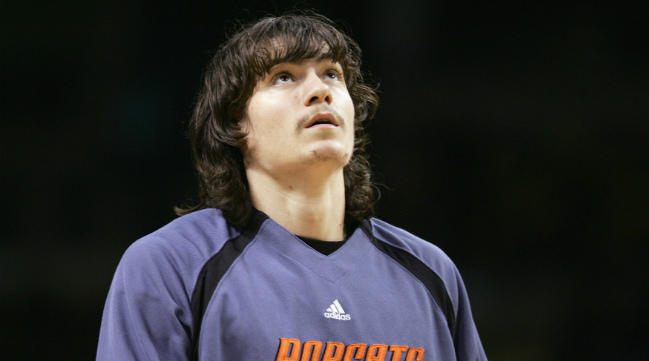 The league had already talked itself out of Adam Morrison several times before the draft began, knowing that there would still be one daffy team willing to take a shot at taking the scorer off the board, and off everyone's annoyed minds.
Morrison's rainbow exploits at Gonzaga, shooting just over the fingertips of mid-level action even at a sturdy 6'8, mixed in with the sort of athleticism stats that would leave even Tim Thomas feeling guilty about his time spent at the office. Rebounds translate.
By the start of summer Michael Jordan would take over the Charlotte Bobcats, team owner Robert Johnson gifting MJ the right to run his club in advance of Johnson selling his expansion debts to Brand Whatever. The league had one less prospect to worry about.
Jordan would take Morrison third, no trades and no gimmicks, and Bargs was long set for top overall with Bryan Colangelo now running the Toronto Raptors. Portland was to lap up at fourth overall.
All the NBA needed was to figure out what it had with Tyrus Thomas, and the Chicago Bulls were more than happy to step forward in time to screw that up.
The Bulls were pleased with themselves per usual in 2006, the club had dragged two first-round picks out of New York in exchange for their rights to trade and eventually sign Eddy Curry and Jamal Crawford away from the Bulls in consecutive summers.


Chicago saw itself as working with Hammond Cash. The team made the playoffs in 2005-06 during what could have been a step-back year, it gave the eventual champion Heat something to think about in the first round and was settling into the sort of cap space that would later net free agent Ben Wallace from ages 32-through-36.
Fancying itself clever, Chicago went out of its way to dissuade themselves from using the No. 2 overall pick on Aldridge. It began with a dinner date shared by LMA, team prez John Paxson, and Chicago coach Scott Skiles:
"Scott Skiles came across as a very focused and determined man," Aldridge said after a solo workout for the Bulls on Wednesday. "At the table, he stared at me for five or 10 minutes and didn't say anything. I was kind of wondering, 'Did I do something wrong?'
Nothing cooler than trying to get in the head of a 20-year old. One trying to interview for a job at an untouched restaurant table in a strange city with two men twice his age that he's never met before.
Skiles' exercise in badassery gave Chicago all the excuse it needed to pounce on Thomas, a 6'7ish former point guard (read: athletic kid that the coaches kept around). Tyrus had grown late in high school and drawn eyes during his final NCAA run with the sort of play that all-around talents like Tyrus Thomas tend to contribute when run up against the pell-mell of February and March.
Slap-happy with success in beating up on Isiah Thomas and the Knicks, Chicago dove into a deal that would save the team money in swapping Thomas for Aldridge with the Trail Blazers at the No. 4 and No. 2 picks.
Portland, assured of Morrison's move to Charlotte with the third pick, would give up certifiable basketball player Viktor Khryapa and Thomas in exchange for Aldridge. This slapped a crusty French loaf and a soggy handful of white bread around the balled-up roll of Alpo at No. 3. Bargs was set at No. 1. Nobody was doing this right.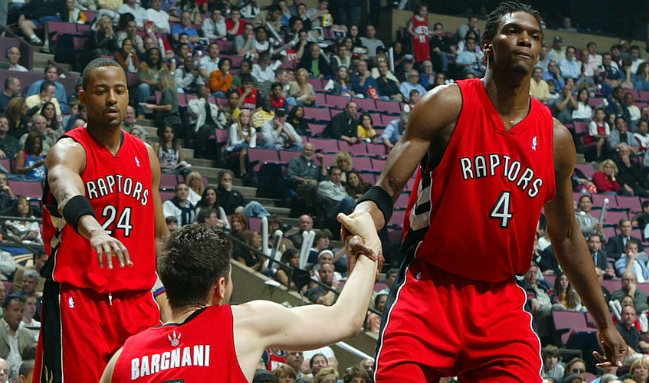 Bryan Colangelo's obsession with Andrea Bargnani came over the objections of Chris Bosh. The Raptor forward had just finished his third season with the club, an All-Star campaign that saw the 21-year old contribute 22.5 points on 50 percent shooting, with 9.2 boards, 2.6 assists, and 1.7 blocks in contests that only saw him average 2.2 turnovers a night in 39 minutes. Damn, was he good.
Bosh worked out with Aldridge, also a Texas Longhorn stuck on the NBA's accelerated program, during the offseason. They could have worked out in any gym, in any city. Any country, really.
Instead, Colangelo dug in on Bargnani, a shooter and scorer that didn't seem to shoot as well or score with anywhere near the avidity and cleanliness of Germany's Dirk Nowitzki, even during Dirk's lowest points in Dallas.
That would have been just fine, an approximation of Dirk Nowitzki still has "Dirk Nowitzki" in the sentence, but what Bargnani would turn out would instead run closer to the statistical career work of Glen Davis (missed threes, missed rebounds), Tyrus Thomas' teammate at LSU.
Andrea's best moments would come alongside Amir Johnson and Linas Kleiza, in years uncomfortably tucked between the Hall of Fame exploits of Bosh's beginning, and the eventual All-Star career of DeMar DeRozan.
The 7-footer topped out at 15 and five rebounds as a Raptor, prior to deadening the eyes of Knick fans with his role in a 2013 trade that eventually cost the Knicks Jakob Poeltl. Bargnani shot well but not nearly as potently to make everything else work out.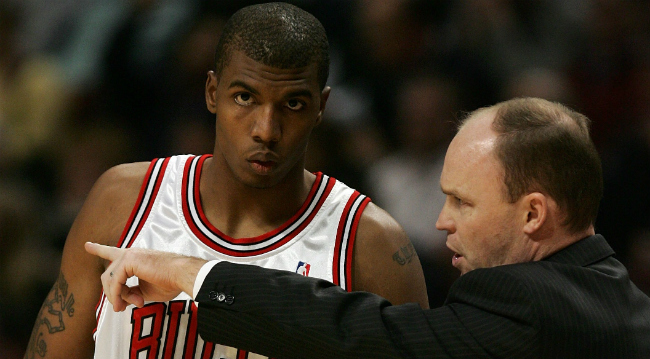 Thomas could have worked and worked well given the right franchise to grow with, but he played in Chicago and Charlotte.
Scott Skiles does best for himself and himself only when surrounded by uneasiness he had the biggest role in creating, and the Bulls franchise is prone to getting out of their head coach's way at the absolute worst times.
Thomas remained a bit player almost at Chicago's insistence, as if to teach a lesson that nobody felt like being around for – the team inked Ben Wallace to a $60 million deal, Luol Deng and Kirk Hinrich were nearing retirement age, it was time to move.
Eight points and five boards in Chicago in 20 minutes a contest for Tyrus, with a block and a half, 254 games.
Prone to an unending series of dumb mistakes that the team acted shocked and astonished in the face of, with the Bulls forever trying to assure the invisible drive-through lady that it was the neighbor's kid, and not Junior, that just ordered the Fry-Burger, please! out loud and for the whole line of cars to hear.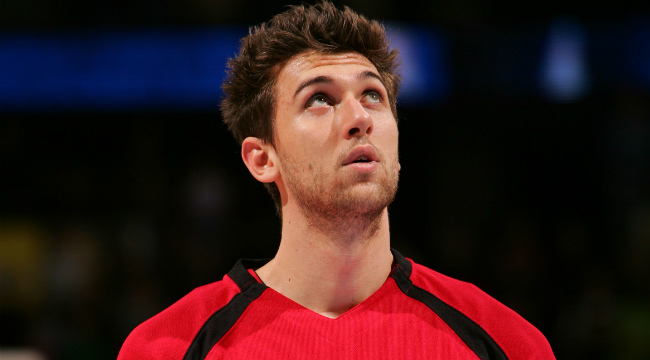 Morrison would go on to remind us that a Thrill Reel full of contested shots doesn't exactly translate to NBA dimensions.
It wasn't Morrison and Bargnani's relative lack of athleticism that did their NBA career in, the modern-as-tomorrow NBA campaigns that they've missed recently only prove that trick never eludes you with athleticism.
It's what you do with the space left over in your head, once the answer to the question isn't "jump higher" or "be bigger than all of them" anymore.
It has nothing to do with day-to-day intelligence and everything to do with what great basketball players, lucky us, just sometimes have. Some are born with it, most dribble their way into that sort of brain-to-muscle correction, all manage to see things before they actually become a thing.
Morrison is getting along, as he sees fit. Thomas just never had a chance, and the minor opportunities he was gifted through little bursts of effort never counted for enough. His NBA career was forced to feel far faster than it had to. He's a photographer, now.
We hope Andrea Bargnani enjoys his time away from the game. The space is earned.
Kelly Dwyer produces The Second Arrangement, now featuring near-daily Behind the Boxscores in most episodes, at tsa.substack.com. New subscription plans start at $5 a month!
Check out our DIME podcast this week with Jim Miller, author of ESPN the book. Subscribe on iTunes.
[protected-iframe id="977a8a9835979403c4646f34b2adbf70-60970621-10222937″ info="https://omny.fm/shows/the-dime-podcast/episode-14-jim-miller/embed?style=artwork" width="100%" height="180″ frameborder="0″]