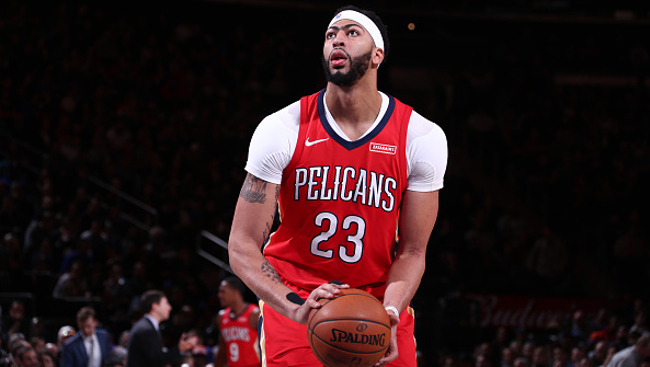 There's just something about playing at the Mecca that tends to bring out the best in NBA superstars. Michael Jordan, Kobe Bryant, and LeBron James have each been responsible for some of the greatest individual performances at Madison Square Garden over the years, and on Sunday afternoon, Anthony Davis made a comparatively modest addition to those annals.
Davis dropped a season-high 48 points, along with 17 rebounds, four steals, and three blocks, to lead the Pelicans to a 123-118 win in overtime. New Orleans trailed by as many as 19 before going on a 17-4 run to start the fourth quarter, which came on the heels of an incredible full-court shot from Davis to end the third that unfortunately came after the buzzer.
That hinted at the late-game performance to come from Davis, as he was unreal down the stretch for New Orleans. The Pelicans closed out the fourth quarter on a 13-4 run that culminated in a tough, game-tying layup from Davis with 3.5 seconds left in regulation to send the game into overtime.
If that wasn't enough, Davis showed off the full repertoire in the extra frame with a gorgeous, Olajuwon-like Dream Shake on Kristaps Porzingis for this 47th point of the afternoon to seal the victory.
Jrue Holiday chipped in 31 points for the Pelicans on 12-of-19 shooting, while DeMarcus Cousins did a little bit of everything as he added 15 points, 15 rebounds, five assists, seven steals, and three blocks, but struggled from the field as he shot just 4-of-16 for the game. New Orleans was able to withstand a big game from Porzingis, who finished with 25 points, six rebounds, three assists, five steals, and a pair of blocks.
Davis is in the midst of one of his best seasons as a pro. His 26.7 points and 9.8 rebounds per game are the second-highest marks of his career, and he's having a career year in terms of efficiency from the floor (56.6 percent), from the free-throw line (81 percent) and from behind the arc (36.1 percent).
Yet "Boogie and the Brow," aka "Fire and Ice," is still very much a work-in-progress. The Pelicans currently share the No. 6 seed in the West with the Portland Trail Blazers but have yet to show the type of consistency that would make them a legit contender.
New Orleans' depth beyond their twin towers remains suspect, at best, so the organization would be wise to explore their options as the February trade deadline looms. In their first full season together, the pressure is on Davis and Cousins to prove that theirs is a viable long-term partnership.