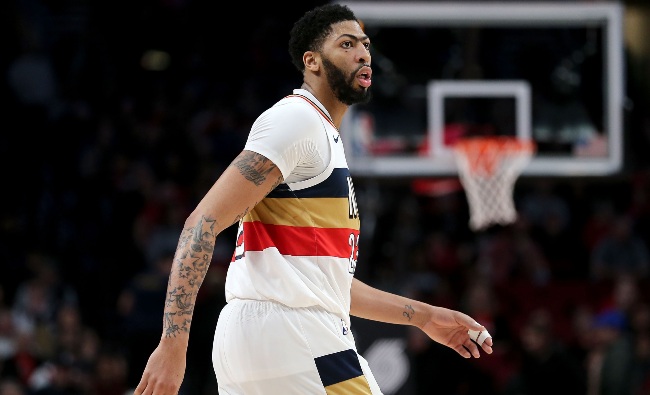 Anthony Davis arrived in Charlotte with a bit of drama, as the multi-talented big man is battling an injury that could keep him off the floor for the 2019 NBA All-Star Game. Of course, drama is nothing new with Davis and the Pelicans, as his (very) public trade request resulted in a circus before the trade deadline and all kinds of back-and-forth with regard to his future (or lack thereof) in New Orleans.
On Saturday, Davis took to the podium at Media Day in Charlotte and, on cue, he made more news. First, the 25-year-old confirmed that the widely reported list of his preferred destinations — including the Lakers, Knicks, Bucks and Clippers — "is true."

That is noteworthy on its own, as a player confirming that kind of thing in the middle of a season (and with another year on his contract) isn't normal. Davis wasn't done there, however, adding that the Boston Celtics are actually on his preferred list, despite previous reporting to the contrary.
Boston famously was unable (at least in a practical sense) to acquire Davis before the deadline, as league rules dictated that the Celtics couldn't employ both Davis and Kyrie Irving on their current deals. In addition, Davis' father publicly indicated that he does not want his son to play in Boston and there has been all kinds of buzz that the All-Star may not want to land with the Celtics.
Still, this public indication could be quite important with regard to potential fireworks during the summer and that, of course, doesn't even shed light on the ongoing mess happening in New Orleans concerning whether Davis will continue to play. It is still quite possible that Davis would prefer the Lakers or Knicks with all things being equal but, in this situation, Boston still might have the best available package of assets and Davis being agreeable to a deal involving the Celtics might help to grease the skids in that direction.
The basketball news cycle has been dominated by Davis for a while and, with these comments, that isn't likely to change anytime soon.