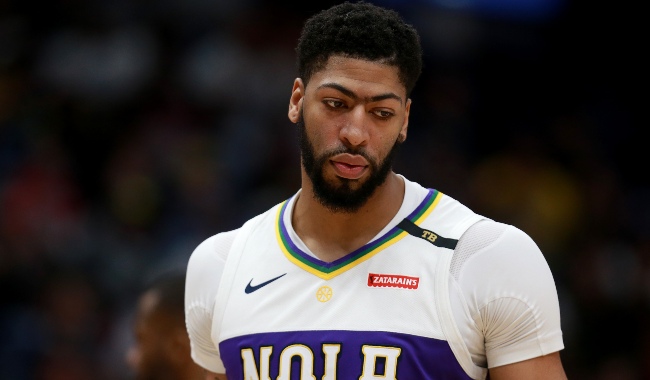 Anthony Davis made waves on Tuesday due to his wardrobe choice for the final New Orleans Pelicans game of the season, donning a Porky Pig-inspired "That's all Folks!" T-shirt as he walked into the arena.
It was hard not to read into Davis' sartorial choices, as he has already reportedly requested a trade. Furthermore, his preferred destination is the Los Angeles Lakers, home of LeBron James, better known as the star of the upcoming film Space Jam 2.
Davis claimed today that he didn't pick out the shirt – rather, it was laid out for him by a stylist or someone else on his team: "I have no control over that. I just put it on."

In addition to sparking a social media storm, the impetus behind the shirt could have been a nod to The Brow's love for the Looney Tunes. When addressing reporters this morning, Davis said, "I'm a big cartoon guy, Looney Tunes is actually my favorite."
That interview was merely one piece of strange news to emerge from New Orleans this morning. According to ESPN's Nick Friedell, Davis was handing out his jerseys to players and staff, which is certainly one way of suggesting finality with the franchise that drafted him in 2012.
Davis ended up sitting out the final seven games of the season after having his minutes slashed post-trade deadline and not traveling with the team for occasional road games. New Orleans finished the season with a 33-49 record despite entering the season with so much promise after having won a playoff series for the first time in Davis' career in 2018. The drama of the trade demand was the final nail in the coffin of a supremely disappointing year, both for the Pelicans and the Lakers.