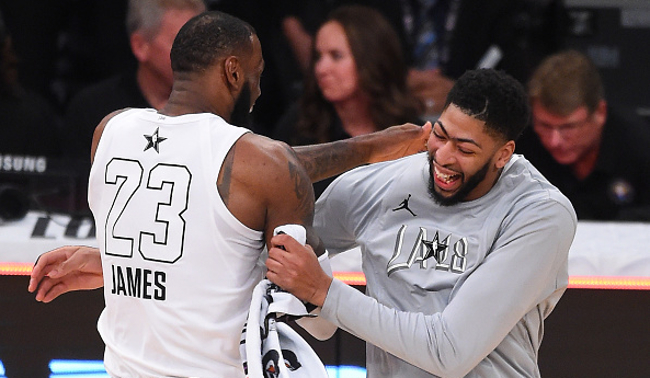 Anthony Davis rocked the NBA world this week when news broke that the Pelicans' superstar had officially requested a trade. In the wake of that announcement, there's been rampant speculation about where he might end up, with the Lakers and Celtics quickly emerging as the betting favorites to land the 25-year-old center.
There are plenty of obstacles for either team in their pursuit, with the Celtics hamstrung by the so-called "Derrick Rose Rule," a complex mechanism built into the CBA that prevents them from acquiring Davis this season because of specific salary-cap considerations.
That leaves the Lakers with the best opportunity to make a deal before the Feb. 7 trade deadline if they can bundle together the right package of young talent and picks tempting enough to move the needle for New Orleans. Still, the Pelicans could opt to stand pat and wait for the summer when teams have more flexibility.
The only problem is that, according to the latest reports from Adrian Wojnarowski of ESPN, Davis wants to end up with the Lakers, and his agent Rich Paul (also LeBron's agent) will reportedly put the word out that his client is only willing to re-sign with Los Angeles.
After agent Rich Paul of Klutch Sports told ESPN on Monday that he had informed the Pelicans that Davis wouldn't sign an extension this summer and wanted a trade, multiple league sources expect the agent and star to soon deliver word throughout the league that Davis' preferred destination is the Lakers and he'll become a rental player until 2020 with a trade anywhere else.
Still, that's no guarantee that other teams like the Boston Celtics, who are loaded with assets as usual, won't make a play for Davis this summer if the Pelicans don't move him by next week. Other organizations, namely the Oklahoma City Thunder, have taken that same gamble and had it pay off big time. The Toronto Raptors have likewise hedged their bets that a season with the team might be enough to convince Kawhi Leonard to sign long-term.
The Lakers proved reluctant in both of those instances to part with their bevy of young talent to make those deals happen, and they face a similar conundrum now. With LeBron, however, the pressure to build a roster that can truly compete in the West is off the charts. The only question remaining is whether they'll put together an offer that makes it happen.
(ESPN)