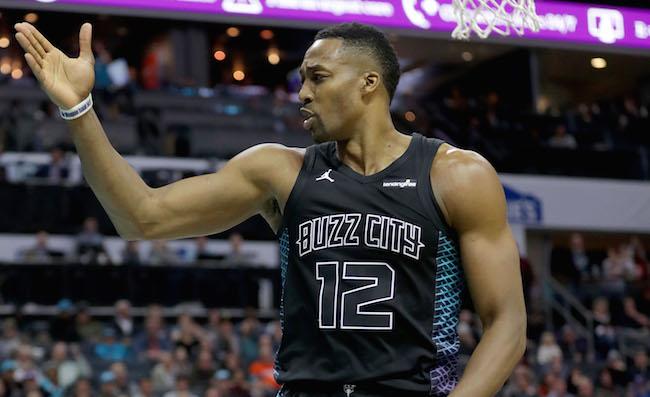 Dwight Howard spent less than 365 days as a member of his hometown Atlanta Hawks. Howard was signed as a free agent in July 2016 to a 3-year, $70 million deal that is among the worst handed out in a summer full of extremely bad contracts and was traded in June 2017 for Marco Bellinelli, Miles Plumlee (whose deal is arguably worse) and a second-round pick swap that moved Atlanta down in the order.
It was very clear that the decision to sign Howard in free agency – rather than bringing back Al Horford – was a failure, and Atlanta was all too happy to cut bait on Howard for nothing close to what his production would've dictated he got in return simply to get him out of their locker room.
So, when Howard and the Hornets made their first trip to Atlanta of the season on Wednesday night, it came to the shock of many that the Hawks made a tribute video for Howard. It was, like Howard's time in Atlanta, very awkward and very short, with it not being announced beforehand in the arena and Howard not even acknowledging it. You can watch it below, in all its glory.

The 30-second spot is really 20 seconds of video, featuring three actual plays he made on the court and then him doing some community things, which is about all they could probably do with his short tenure.
The tribute video craze in the NBA has gotten out of control, and this is the best example of that, although the Hawks also ran one for Tim Hardaway Jr. this year which was almost as silly. Every player who leaves a team doesn't need a tribute video. It's OK to just let a guy who was briefly part of your franchise return without fanfare; in fact, it's probably for the best in a situation like this.
Howard didn't walk in free agency on amicable terms with the Hawks. He got traded for bad on-court value and bad contracts to get him away from the team. That really shouldn't warrant a tribute video.